Version 7.1 of Orion Platinum (PC) was released today. This free update is now available to download for all Orion Platinum 7 users.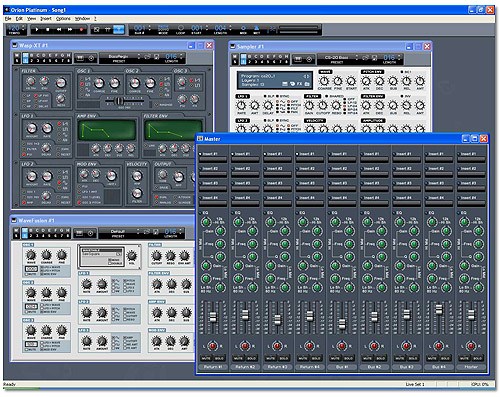 New features include:
– User switchable Wallpapers (BMP, JPG, PNG supported)
– Song info image supports now 132×132 JPG, PNG files
– Files regonized by Sampler can be dropped directly into Orion
– FXP/FXB saving added for VST effects
– Toxic III updated to version 1.2
* Enhancements
– Zooming keeps the center position
– Skins can use PNG files instead of BMP
– Newly recorded Audio clips are named after the Audio Track name
– Renaming generators, mixer channels and playlist tracks is more logical now – Midi import & Export supports now all CC#s and Aftertouch
– Added Timebases 480ppq and 960ppq
– Received Midi Program Changes are now sent to effects
– Genetics is now possible for VST and Internal Effects
– Song Event Editor for a Generator can be opened from Playlist
– Time Signature dialog removed from New Song, instead use Options – Time Signature
– Event Editor look and feel updated
– New look for Playlist and Pianoroll timelines
– Loading Drumrack presets seeks missing samples from Default Sample Paths
– Auto-Stop on Overload threshold made configurable
– CPU indicator tells now if engine not running
– Splash window shows loading progress
– Audio Input Monitor for a track can be muted from playlist and still recorded
* Changes
– Cursor Follow shortcut on both playlist and pianoroll is now Shift+S (not S or F anymore)
– Playlist/pianoroll Grid toggle is Shift+G
* Bug fixes
– Loading invalid Wave file caused crash. Fixed.
– Recording Patterns caused hang/crash. Fixed.
– Playlist patterns and audio segments jittered when scrolling. Fixed.
– Hidden Drumrack controls were drawn on midi automation. Fixed.
– Drumrack track name not updated properly when track renamed. Fixed.
– Screamer Filter Select label displayed incorrectly. Fixed.
– Soft Saturation EQ dernormal problem. Fixed.
– Hosting Rewire clients not working. Fixed.
– Playlist shortcut 'J' didn't work if smooth follow was enabled. Fixed.
– Switching Timebase during playback caused problems. Fixed.
– When adding Steinberg Plex Orion crashes. Fixed.
– Audio engine hangs when trying to remove last Drumrack Track. Fixed.
– VSTs could not synchronize on time signatures properly. Fixed.
– All inputs weren't visible for multi-output soundcards (more than 16 inputs). Fixed.
– AudioTrack clips not played if input monitoring was disabled and input channel selected. Fixed.
– AudioTrack antialised drawing broken. Fixed.