The end of August saw the beginning of the releases of all current Samplitude and Sequoia No.9 versions. To coincide with the releases, a completely new website design and structure has been developed that provides all information on the professional MAGIX products more effectively and quicker than before. This will be added to bit by bit so as to package the experiences of users and the communication and development resources of MAGIX more comprehensively into the Community.
Sequoia 9 / Samplitude 9 is setting new benchmarks in effectiveness: maximum resource utilization with the ultimate sound neutrality. The unique functionality as well as outstanding cutting and editing options in the areas Multi-track Recording, MIDI & Audio Editing, and Sound Design & Mastering provide all the possibilities for creative editing at the highest level.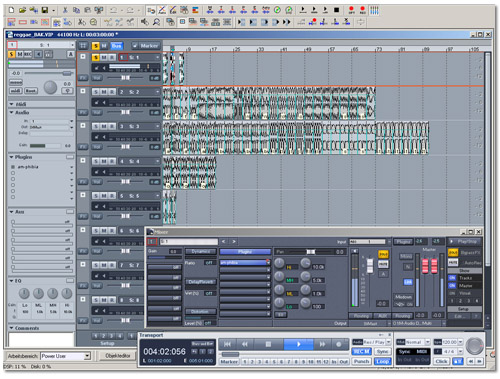 Take advantage of the outstanding new features in Sequoia 9 / Samplitude 9:
– Video Engine (Sequoia only): The newly integrated video engine allows you to include individual video objects.
– Hybrid Audio Engine: A special combination of a new Low Latency Engine
and the classic playback engine.
– Economy Track: You can setup a track as an Economy Track to save system resources.
– Advanced Dual CPU Support: Sequoia / Samplitude support multi-CPU/multi-core/HT PCs by distributing the load for various tasks to different CPUs.
– Track Editor: Located at the left side of the arrangement window the Track Editor enables
access to all important track parameters of the selected track.
– Mono Settings dialog: The Mono button in the Track Editor switches the track to mono (from Input to Panorama Controller).
– New Effect presets: The "FX" button in the Track Editor and Mixer opens dialogs for specifying the order of the effects and adding VST/DirectX plug-ins.
– Score Editor:
The Score Editor displays the score of a MIDI track in realtime.
– am-phibia: am-phibia is a tube amplifier/channel strip and belongs to the Analog Modelling Suite of the MAGIX Plug-ins alongside the well-known am-track and am-pulse.
– VariVerb Pro: Reverb device that creates classic and modern, artifact-like reverb effects such as room, plate, spring an non-linear reverb.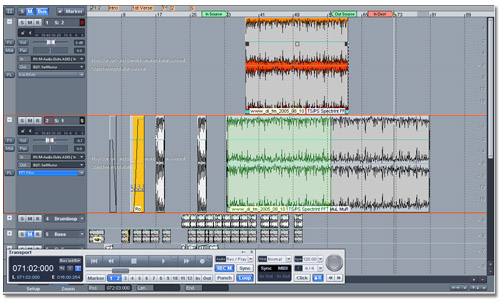 – de-esser: With the de-esser you can conveniently and quickly remove the "S" sounds from vocal recordings.
– VSTi Manager: In the VSTi Manager you can sort, manage, instance and delete VST instruments.
– Sample Tank LE: Sample Tank 2.1 LE from IK Multimedia is included as an external VST instrument.
– Auto Jam Session: The Auto JamSession lets you create complete songs single-handedly.
– Sound Cloner: With the Sound Cloner feature you can determine the sound characteristic of a song and transfer it to another one.
– Spectral Cleaning: Spectral Cleaning removes noise from a recording without
Klicken Sie für Zoom Ansicht
audibly influencing the wanted signal.
– New surround characteristics: Surround DeHisser, surround vocoder, surround volume fader in the VIP scales all surround chanels, surround volume automation in the VIP, surround bounce interleaved now with wave format – Extensible chunk: the surround visualization is opened in surround projects without stereo master (preset).
– Enhanced automation including AUX: In addition to the volume and panorama automation you can now also dynamically record the AUX input in the Mixer and Track Editor while the automation button is activated.
– Improvements and additions to the internal audio effects: UTR – "Ultra Transparent Resampling": New resampling algorithm for considerably faster and even better linear-phase high-quality resampling, new timestretching/pitchshifting algorithm: "Beatmarker Timestretching smoothened", non-modal FX dialogs, room simulator and multiband effects: Optimization for Low Latency use, integrated harmonizer for Elastic Audio, and much more.
– Advanced effects/VST support: Supports VST WaveShell including automation, object effect support: object delay/reverb effect, VST & DirectX plug-ins available within the object as pre/post, improved parameter resolution for VST automation, new options for creating 24-bit FX files for destructive effects.
– More new features: Burning MP3 CDs, project export as an AAC file, record mode: new preset "default mode (playback while recording", new tree structure for system and project options, advanced controller support.
– Audio ID: Music identification process provided by M2Any. Analyzes the music track and submits a search request to a web server.