After a long wait and despite persistent rumors, TerraTec Producers KOMPLEXER Synthesizer of Emotions is available now. Offering both virtual analog synthesis and wavetable synthesis, TerraTec Producers KOMPLEXER, a high end synthesizer, sets new standards for VST plugins.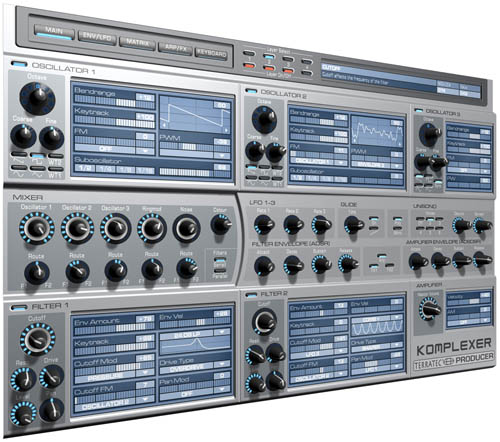 Eight macro controllers are onboard to afford utmost handling ease. Version 1.01 of the Komplexer is already available at the time of release with a number of improvements. Moreover, users can log on to the KOMPLEXER VST forum, on the TerraTec Producer Website where they are kept up to date with the latest news and can exchange experiences.
Worlds of sound. Featuring classic synth sound powered by three oscillators, two multimode filters, four ADSDSR envelopes and three LFOs, KOMPLEXER plays in the premier league of VST instruments.. Courtesy of the application's groundbreaking macro controllers, presets can be modified to suit every taste using just eight parameters. This is a tremendous improvement in handling ease that not only newbies will welcome. Of course, this VST instrument also affords users unrestricted access to all of the sophisticated synthesis engine's 400 parameters. Features such as the ultra advanced arpeggiator and LFO 3's synchronizable user-specific waveform serve to create striking soundscapes that adapt automatically to the given song tempo. In the 16×16 modulation matrix almost every parameter of the Komplexer can be accessed.
Perfect integration. A new synthesizer to rival legendary synth's performance, KOMPLEXER brings professional sound to every VST-compatible application.
Beyond that, KOMPLEXER integrates seamlessly into all VST environments, adding even more practical appointments such as full automation capability to its impressive arsenal of features. KOMPLEXER can also be used without a VST-Host (Standalone – Mode).
Waldorf microQ® Import. Its ability as the only VST plugin worldwide to import Waldorf microQ® sounds underscores KOMPLEXER's status as an exceptional sound-sculpting engine. Therefore the KOMPLEXER VST offers a huge library of sounds. Priced at 199.00 euros (MSRP).