M-Audio is proud to announce the release of the X-Session Pro USB MIDI controller. The unit is designed to bring traditional DJ-style control to the world of computer DJing and live performance.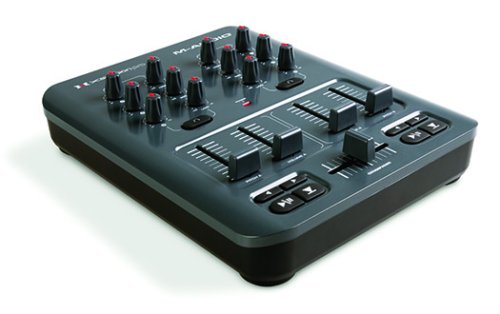 The X-Session Pro combines the standard controls of a two-channel DJ mixer with the transport and pitch controls of a turntable or DJ CD player, enabling users to control DJ and performance applications from a single interface. The mixer controls allow users to perform smooth crossfades as well as adjust level, cueing, and EQ, while the integrated transport and pitch controls allow starting, stopping and beat-matching digital files within programs like Ableton Live, Traktor DJ Studio and other DJ/performance applications.
Additionally, the X-Session Pro can be used with any software that supports MIDI Learn. The unit is a standard class-compliant MIDI device under Mac OS X and Windows XP*, enabling it to interface directly with soft synths and DAWs capable of MIDI Learn—including Pro Tools M-Powered™. The X-Session Pro connects to a Mac or PC via USB 1.1 and is completely bus-powered for portability and ease of use.
"A mouse and keyboard do not provide the most fluid or musical interface for live performance, and that's why we've developed the X-Session Pro," says Adam Castillo, marketing director for M-Audio. "The unit is designed for both established digital DJs and those just coming over to computer-based performance. The X-Session Pro presents users with a familiar layout and design, making it a snap for anyone to get up and running with it."
The X-Session Pro is currently shipping with an MSRP of $129.95.