M-Audio is proud to announce shipment of the Conectiv 4 x 4 USB DJ audio interface and Torq DJ performance/production software, the first releases from M-Audios new SynchroScience product development group.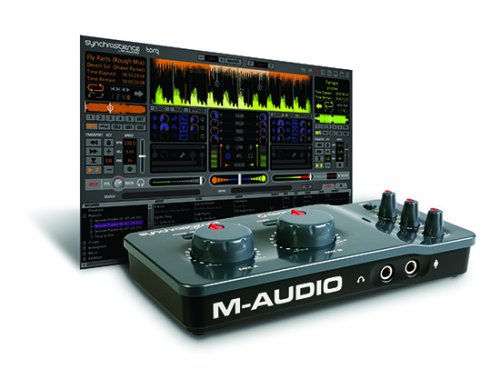 Built from the ground up with DJs in mind, the Conectiv 16-bit/48kHz audio interface offers easy USB connectivity that transforms PCs and Macs into complete DJ production and performance solutions. The two large mix knobs allow users to mix the incoming audio from a turntable or CD player with the output of a connected computer. Conectiv also includes standard DJ cueing capabilities, enabling users to listen to a track in the headphones before sending it out to the house system.
Conectiv features two pairs of switchable line/phono RCA inputs for direct connection of turntables or CD players, two pairs of RCA line-level outputs, a ¼" mic input, and a headphone output with cue capabilities. Conectiv offers a maximum output level of +2dBV—the same output level as other professional DJ products like CD players—representing the loudest output of any bus-powered audio interface.
Conectiv also ships with Torq, the new DJ software that is the cornerstone of the entire SynchroScience product line. This dual-platform DJ application allows users to mix, beat-match and cue a variety of digital audio file formats, including MP3, AIFF, WAV, WMA and AAC. The software automatically configures itself to work with Conectiv, making set-up extremely easy. Furthermore, Torq can be controlled via mouse, keyboard, MIDI controller or control vinyl/CDs. The program also organizes a user's digital files into a quickly searchable database. And for additional sound shaping and performance options, Torq supports third-party VST effect plug-ins and includes both a dedicated sampler and performance recorder.
The combination of Conectiv and Torq lets DJs work in any manner in which they are comfortable. The program's ability to organize and play a host of digital files in a variety of formats paves the way for totally digital performance and production. For the DJ who chooses to rely on vinyl or CDs, Conectiv can turn a laptop into an extremely versatile multi-effects unit for the output of a connected turntable or CD player. Users can even create a hybrid digital/vinyl DJ rig by using Conectiv and Torq with specially encoded control vinyl discs or CDs.
Also, Conectiv is a very capable recording interface. With switchable RCA phono/line level inputs and ¼" mic input, users can easily record a wide of variety of sources with any Core Audio or ASIO-compatible DAW software, including Pro Tools M-Powered™, Ableton Live, Logic, Cubase, Digital Performer and more. These industry-standard Core Audio and ASIO drivers also allow Conectiv to deliver low-latency operation on both Mac and PC.
"The formation of M-Audio's SynchroScience group demonstrates our commitment to creating products by DJs for DJs," says Adam Castillo, marketing director at M-Audio. "Conectiv and Torq deliver the kind of flexible power that DJs have been demanding for some time now, along with new twists that will propel the art into new territories. With this very affordable combination, all a DJ needs is a computer and set of headphones, and they're ready to start mixing tracks any way they want. DJs can use it as a stand-alone digital system—including control vinyl or CD control—or for multi-effects processing of traditional sources. It's the kind of tool that grows with you while it expands your music potential."
Conectiv is currently shipping and carries an MSRP of $299.95. Torq is included free with Conectiv and future SynchroScience products.