reKon audio today, announces the release of their VST Virus A Editor 1.1 for Mac and PC. The VST Virus A Editor is reKon audios third product offering and offers advanced control of the Access Virus A synthesizer. Soon, reKon audio will be releasing versions for the Virus B and C models, which will also support the Virus Rack and Rack XL models. Demos will be available soon.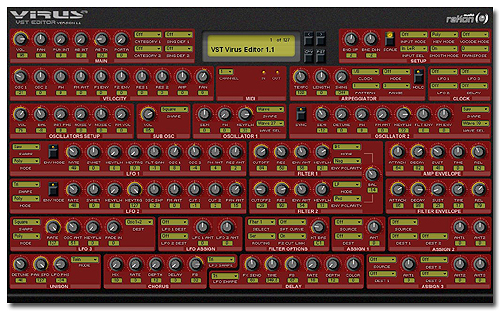 VST Virus A Editor™ – The VST Editor Series™ meets the Access Virus™ A ! Now you can have absolute (almost TI like) power over your Virus A synthesizer. A stunning VST Editor that puts all the Virus A controls right at your fingertips and always within visibility, making it easier than ever to create and manipulate your sounds. You can even dump existing hardware patches right into the editor to reshape them.
And more…
reKon Audio recently released VST Pulse Editor for Mac OSX and VST PolyLite Editor™. Editors respectively for the Waldorf Pulse™ and Pulse Plus™ synthesizers and for the MFB-PolyLite synthesizer.
For more information on these editors please visit the reKon Audio website.