TC Electronic announces that UnWrap, the worlds most widely used high resolution mastering and up converter algorithm for music and post production, will soon be available for digital audio workstations. Originally developed for TCs flagship System 6000 high definition processor, UnWrap facilitates smooth and fast stereo to 5.1 up conversion when there is no time to do a conventional 5.1 mix or multitrack source material is non existent.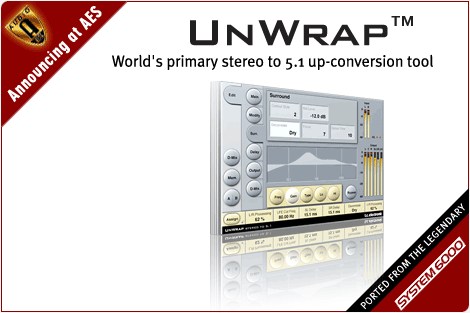 Full versions of the UnWrap™ plug-in will be released for PowerCore VST (EUR 950 retail ex. VAT) and Pro Tools|HD Accel (EUR 1250 retail ex. VAT) later this month.
UnWrap™ offers an abundance of parameters to convert stereo and LtRt sources to 5.1, while remaining faithful to the original mix's width, timbre, spaciousness and other significant factors. Because of this approach the 5.1 output can be subsequently down-mixed to stereo again with no sonic penalties.
UnWrap™ includes customized up-conversion presets for film production and music mastering. The default presets include the capability to time-align all channels at sample precision, widen or narrow the image, control the amount of center and LFE channels to be used, as well as change filters and envelopes. All preset parameters are fully editable. With double-precision processing, UnWrap™ is capable of running at any sample rate between 44.1 and 96 kHz.