Universal Audio unveiled the innovative Desktop Console System (DCS)- a new concept and product line which initially includes the DCS Remote Preamp and DCS Monitor Master. Also introducing the 2-LA-2, Twin T4 Leveling Amplifier. Based on the classic LA-2A design, the new 2-LA-2 offers two linked or independent channels and two T4 optical compression cells per channel, greatly expanding the uses of the original LA-2A.
"The Desktop Console System (DCS) is a modular product family designed to upgrade and enhance DAW's by elegantly combining the most useful large console features into a compact "micro-console" form factor." said Mike Barnes, VP Of Marketing for UA. "By collaborating with Scott & Rob Silfvast, two of the original founders and ex-executives of Euphonix, UA is poised to bring high-end console quality and pro features to project studios needing console features but with limited workspace and budgets."
Key Features Of DCS Remote Preamp (Dual Pre & Cue Mixer):
* Dual Mono Or Stereo transimpedance Mic Pre/DI
* Mid-Side (MS) Recording with decoded monitoring
* Headphone amp with 3x Cue mix, Reverb & EQ
* Digitally controlled analog signal path via DCS-Link(tm)
* Remote up to 300′ from base station via CAT-5 cable
The DCS modular family of products each combine a base-unit with a DCS-Link(tm) connected remote controller and can each be used individually or interconnected to form a multi-unit console. The first DCS product, the Remote Preamp, is scheduled to begin shipping in Q1 2007 at a price TBA.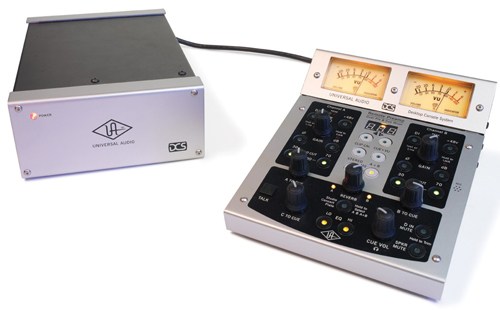 "The 2-LA-2 is a feature-enhanced stereo evolution of the classic LA-2A sound redesigned to fit neatly into a 2U rack." said Mike Barnes, VP of Marketing for Universal Audio. "Uniquely, the 2-LA-2 offers twin T4 cells (one fast and one slow) on each channel which means the 2-LA-2 can be used in conventional dual mono "classic" mode or in fast recovery mode as a stereo bus or drum group compressor which opens up many potential new uses of the LA-2A sound in recording, broadcast and live sound markets. "
2-LA-2 Key Features:
* Sound and circuit of the original Teletronix LA-2A
* Matched slow and fast optical T4 modules
* Linked stereo or dual mono operation
* 2U Rack, Custom UA Transformers, audiophile components
* Designed by original UREI(r) engineer, Dennis Fink
"With ten tubes and four T4 gain reduction modules, the 2-LA-2 is a real breakthrough in optical compression." said Dennis Fink, Chief analog designer on 2-LA-2. "The real design challenge was to retain all the essence of the "LA" sound within a brand new circuit layout and squeeze it into the desired standard 2U rack. While the 2-LA-2 is not an exact component clone of our classic hand-wired LA-2, this new product created a great opportunity to evolve the next generation of the LA optical compression sound. By adding some extra unique features such as the twin socketed T4 cells on each channel, the 2-LA-2 even allows hardcore tweakers to substitute T4 modules to "tune" compression."
The 2-LA-2 will ship worldwide in Q1 2007. Final pricing will be announced at the time of first customer ship but as with the 2-1176, will offer a significant discount over purchasing two classic units.