Universal Audio today announced the development of the 2-LA-2 Twin T4 Leveling Amplifier, The Desktop Console System (DCS) and the v4.5 software for the UAD-1 & UAD-1e DSP Card & Powered Plug-Ins system.
Based on the classic LA-2A design, the new 2-LA-2 offers two linked or independent channels and two T4 optical compression cells per channel, greatly expanding the uses of the original LA-2A. The 2-LA-2 will ship worldwide in Q1 2007. Final pricing will be announced at the time of first customer ship but as with the 2-1176, will offer a significant discount over purchasing two classic units.
"The 2-LA-2 is a feature-enhanced stereo evolution of the classic LA-2A sound redesigned to fit neatly into a 2U rack." said Mike Barnes, VP of Marketing for Universal Audio. "Uniquely, the 2-LA-2 offers twin T4 cells (one fast and one slow) on each channel which means the 2-LA-2 can be used in conventional dual mono "classic" mode or in fast recovery mode as a stereo bus or drum group compressor which opens up many potential new uses of the LA-2A sound in recording, broadcast and live sound markets. "

Desktop Console System (DCS)- a new concept and product line which initially includes the DCS Remote Preamp and DCS Monitor Master. The DCS modular family of products each combine a base-unit with a DCS-Link(tm) connected remote controller and can each be used individually or interconnected to form a multi-unit console. The first DCS product, the Remote Preamp, is scheduled to begin shipping in Q1 2007 at a price TBA.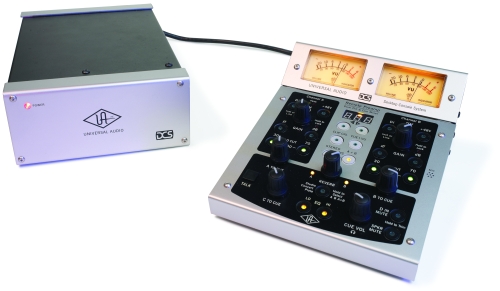 "The Desktop Console System (DCS) is a modular product family designed to upgrade and enhance DAW's by elegantly combining the most useful large console features into a compact "micro-console" form factor. " said Mike Barnes, VP Of Marketing for UA. "By collaborating with Scott & Rob Silfvast, two of the original founders and ex-executives of Euphonix, UA is poised to bring high-end console quality and pro features to project studios needing console features but with limited workspace and budgets."
v4.5 software for the UAD-1 & UAD-1e DSP Card & Powered Plug-Ins(tm) system. Version 4.5 will include a 14-day fully functional demo of the third in the series of Neve(r) licensed plug-ins – the 1081 Classic Console Equalizer.
Registered UAD-1 customers will be able to purchase full authorizations of the 1081/1081 SE two plug-in bundle for US$249 from my.uaudio.com at the time of web launch slated for Q4 2006. A Neve(r) plug bundle including all 3 UAD/Neve plug-ins (1073, 33609, 1081 and respective "lite DSP" SE versions) will be available simultaneously at considerable saving and priced at US $599.
"The four-band Neve 1081 Equalizer is another revered Neve design with a very musical parametric midrange." said Mike Barnes, VP of Marketing for Universal Audio. "Along with our 1073 EQ and 33609 Bus Compressor, the 1081 EQ compliments the exclusive UAD plug-in series bringing the most desirable and sophisticated professional audio tools and authentic Neve sound to the desktop. UA will also be offering a special discounted 3-plug Neve bundle to our loyal UAD customers and will of course ensure that early adopters who purchased the single Neve plugs can also participate in that deal. "