The new Vestax R3 DJ mixer, Strictly built for professional level DJs who rock the floors across the globe.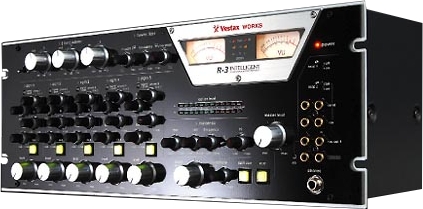 Vestax has taken a journey back to the days when analog audio equipment was built by hand and piece-by-piece. The Vestax premium series is made strictly from following the principles of circuitry, and our passion and belief in the artists who use them.
The R-3 has answered to these requests by adding EQs to the input, mixing and master sections, enabling intensive level control and equalization to the sound. Our goal was using the best components and parts available for a high-end mixer, answering the needs of the top professional DJ and sound engineer.
Not only does the R-3 answer with superior quality, but the full aesthetics and feel of the mixer was also designed to allow the DJ to feel most comfortable and fitted to the mixer.
From knobs with handcrafted skill, Vu Meters for precision and layout measurements made exclusively for the DJ, the design and development of the R-3 was built for the Professional.