Mbox 2 Mini is the worlds smallest, most affordable Pro Tools LE system ever. Whether you are a singer/songwriter who is new to recording or a seasoned pro on the go, Mbox 2 Mini packs professional features into a robust, ultra compact, easy-to-use audio workstation to record and mix music wherever your inspiration takes you. And with its diminutive size, Mbox 2 Mini literally puts the power of Pro Tools in the palm of your hand.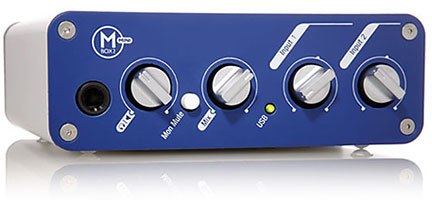 Mbox® 2 Mini — like the rest of the Mbox 2 family — was designed by Digidesign, makers of professional, industry-standard Pro Tools|HD® hardware. That means you can expect premium hardware design, high-quality internal components, and superior sound quality and reliability. Mbox 2 Mini supports up to 24-bit/48 kHz audio resolution, delivering stellar sound at better than CD-quality audio. And its robust metal enclosure can withstand all the bumps and knocks that come with being toted around everywhere you go.
Mbox® 2 Mini is professionally and durably built to withstand all the knocks and bounces it encounters as your traveling companion, and delivers superior sound quality.
Some features of the Mbox 2 Mini:
* Professional sound quality (up to 24-bit/48 kHz)
* Two simultaneous analog inputs and outputs
o One XLR analog input for connecting a microphone
o Two ¼" line-/instrument-level (DI) analog inputs for connecting guitars, basses, keyboards, synthesizers, drum machines, and more
* Zero-latency monitoring
* Compact, rugged metal enclosure for maximum portability and durability
Priced at just $329 (U.S. MSRP), the Mini will be available soon.