The new THRU-5 from Kenton comes in a smart brushed aluminium case and is powered from a plug-top power supply which is included with the unit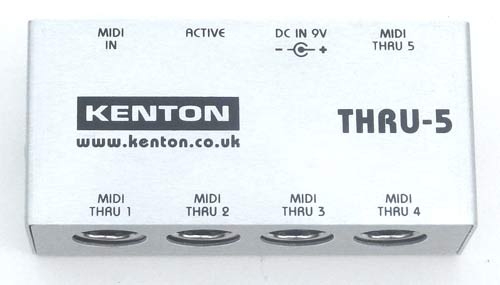 High quality Kenton MIDI Thru box with opto-isolated MIDI In and separate drive for each MIDI Out. Powered from a mains adaptor (wall wart) so you can fit and forget.
Features:
-1 x MIDI In
-5 x MIDI Thru's
-Includes signal quality restoration circuitry
-DC power input jack 2.1mm (centre +ve)
-Power indicator light
-9V unregulated power supply included (UK, EU and USA types available)
-Housed in a metal box so it can withstand the knocks
Availible now and the Thru-5 costs £49.98 incl. VAT.