M-Audio, a leading provider of creative tools for computer centric musicians, is proud to announce shipment of the new MidAir wireless USB MIDI system and MidAir 37 wireless keyboard controller. Combined with the MidAir 25 keyboard controller, these new additions round out a complete family of wireless products.
The MidAir wireless MIDI transmitter and receiver system allows users to wirelessly transmit data from any device that outputs MIDI—keyboards, drum machines, electronic drums and more. MidAir makes it possible to control everything from keyboards and sound modules to multi-effects units and stage lighting rigs. Users can simply plug the battery-powered transmitter into the MIDI Out port on their controller of choice and connect the receiver to the MIDI In port on the device they would like to control. The MidAir receiver also includes a USB port and functions as a class-compliant 1 x 1 MIDI interface for connecting to a computer.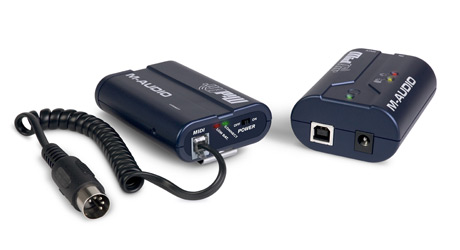 The MidAir 37 allows users to take control of any standard software or MIDI instruments with a compact wireless keyboard. Packed with many of the same features as the legendary Oxygen8 keyboard controller, the MidAir 37 boasts 37 velocity-sensitive keys, a three-digit LED display, nine MIDI-assignable faders, eight MIDI-assignable knobs, mod and pitch bend wheels, and sustain pedal input and button—all in a totally wireless design. The controller can be powered by standard batteries or the included 9V power supply.
With wireless technology from Frontier Design Group, all MidAir devices operate in the 2.4 GHz frequency band, enabling users to interface MIDI hardware and/or software at distances up to 30 feet with the same feel and response as a wired connection.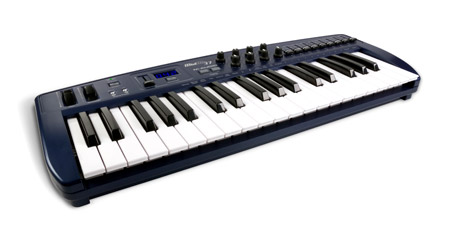 "The MidAir family of products allows users to bring all of their MIDI gear into the wireless age," explains Adam Castillo, marketing director at M-Audio. "The MidAir opens up huge possibilities both onstage and in the studio. Anything that accepts MIDI data can now be controlled wirelessly by anything that transmits MIDI data. The options are essentially limitless."
The MidAir wireless MIDI system is now shipping with an MSRP of $149.95 USD. The MidAir 37 is currently expected to ship mid-November, with an MSRP of $299.95 USD.