Responding to the massive popularity of the Little Phatty Tribute Edition, Moog Music has announced a production model and will unveil the new synth at Winter NAMM. The Little Phatty Stage Edition has the same features and sound engine, designed by Moog founder and inventor, Bob Moog, and also boasts improved software and a unique auto calibration feature.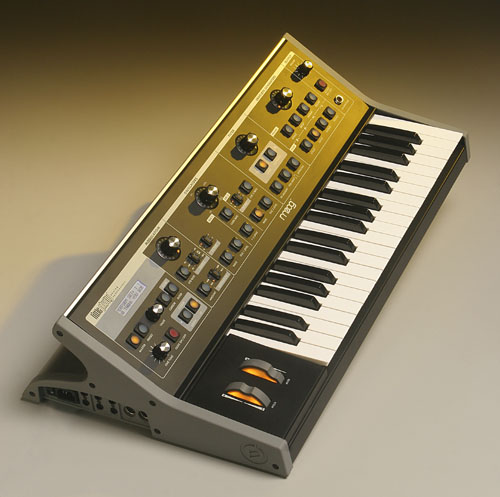 "Demand for the Little Phatty has been huge since we released the Tribute in August. We are completely sold out, and my understanding is that only a few dealers have Tributes available," said Moog Music President Mike Adams. "We set out to design a true analog synth with a simple yet versatile interface and make it available to a wider audience. Clearly we got it right, and with the Stage Edition, a Moog synth is accessible to a huge spectrum of musicians and performers."
Not settling for vintage synth dominance, Moog continues to innovate and fuse uncompromising sound quality and craftsmanship with new technology. The Little Phatty Stage Edition puts the performer in control of a 100% analog signal path with Real Analog Control (RACTM), two ultra stable Voltage Controlled Oscillators and one Voltage Controlled Filter among other versatile features like CV inputs, KB gate and full MIDI in/out control. Sr. Design Engineer, Cyril Lance is pleased with both the sound of the Phatty as well as its capability as a MIDI controller, "The Little Phatty not only has its signature killer and limitless sounds, but the ability to use its innovative interface as a versatile general MIDI controller make it an incredible tool for both performance and the studio."
The Stage Edition has updated software, which includes auto calibration and an auto tune function that ensures the instrument is tuned perfectly whether it's in a cool studio or under hot stage lighting. The software update also includes an asymmetric pitch wheel as well as arbitrary pot mapping that allows the user to assign knobs to perform different functions. Owners of the Tribute Edition will be able to download the updated software package free from the Moog Music Web site.
The Little Phatty is aesthetically pleasing both aurally and visually. A striking design makes it one of the coolest looking synths on the planet. The Stage Edition departs from a traditional wood cabinet and is cradled instead by sleek, charcoal-colored rubberized side panels.
The Little Phatty Stage Edition will begin shipping in February 2007.