N>Trans (pronounce: entrance) is Maycom's newest product addition, a new platform for computerized audio recording. A Compact Flash sized audiocard for use in a PDA or laptop computer.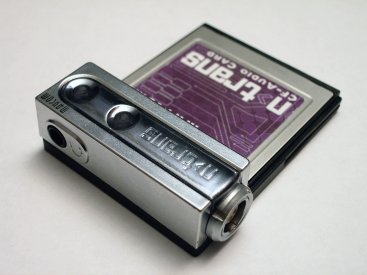 A lot of broadcasters nowadays do not only have a transmitter but also have a website that enhances or even substitutes the regular broadcast. So there will be a demand for not only audio but text and pictures as well.
The reporter becomes a multimedia reporter. By using the N>Trans audiocard together with a PDA, a reporter has everything with him in a single package to record and distribute all different kinds of content. Maycom only manufactures the N>Trans, and provides a SDK (Software Development Kit) for third Party software developers. The card will have support for both windows Pocket PC and Windows 2000/XP. At this moment Technica del Arte developed the first piece of software: LUCI. The combination of N>Trans, a PDA and LUCI will enable a reporter to make a recording (MPEG or Linear), edit the recording and send it to the studio using the communication features of the PDA.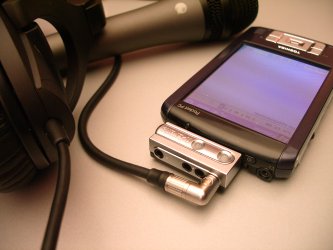 N>Trans will appear in two versions: N>Trans and N>Trans Pro. The difference will be the type of connector and the type of microphone power supply. N>Trans will have two 3,5 mm Jack connectors: Left (balanced), Right (balanced) and a stereo input (unbalanced). The unbalanced input has a 6Volt microphone bias for electret microphone support. The N>Trans Pro will have a single 5-pin LEMO connector wired for Left an Right balanced inputs. Both inputs can supply 12V, 24V or 48V Phantom power.
Both versions have a 24-bit 96kHz A-D/D-A converter onboard. It is up to the developers of the software and the type of PDA what the maximum conversion will be, that can be used . LUCI for instance is targeted for Electronic News Gathering applications and uses MPEG compression (NOT the Card) and linear max 16-bit 48kHz.
The audio front end consists of pre-amplifiers that can be configured in MIC, MIC-20 and LINE mode, a hardware limiter, automatic gain control, microphone power supply (MIC-bias or Phantom) and a high power headphone amplifier.