Solid State Logics Mixpander is a 64-channel PCI audio interface for PCs designed to be used in conjunction with the recently launched XLogic Alpha-Link Audio Converter range.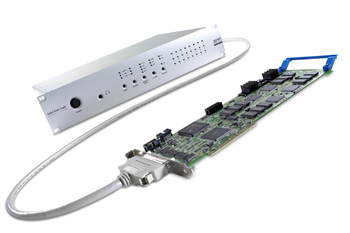 The combination of Mixpander and Alpha-Link makes a versatile, scalable system that enables users to configure their ideal combination of audio input and output connections for PC DAW platforms. Mixpander ships with a standalone software-based mixer that works with host PC-powered VST or DSP powered plug-ins.
Combined with the Alpha-Link converter range, Mixpander offers ultra-low latency audio monitoring with plug-in processing in place. Mixpander and Alpha-Link work with all standard PC audio applications and DAW platforms like Cubase, Nuendo and Sonar, and enable simultaneous use of multiple audio applications.
Each Mixpander PCI card provides 64 channels of I/O; up to four Mixpander cards can be used in a single PC. Each Alpha-Link rack I/O unit offers 24 channels of analogue A/D input and D/A output, and up to 64 channels of digital I/O. Up to two Alpha Link I/O can be connected to a single Mixpander. The 64 Mixpander channels are freely assignable to any available I/O connections, giving, for example, 48 analogue I/O from a single PCI card. Each Mixpander PCI card is loaded with DSP to drive processing plug-ins and comes with the '"Audio Toolbox" plug-in pack (with 4-Band Parametric EQ, Filter, Dynamics, Chorus/Flange, MS Decoder & Dither) and can be used with special release versions of a wide range of popular plug-ins from: Acuma Labs, Aphex, Arboretum, Cedar, Dolby Laboratories, Drawmer, Solid State Logic, Sonic Timeworks, Algorithmix, Synchro Arts, Spinaudio, TC Electronic, Wave Mechanics.
Availability: Mixpander will be shipping worldwide in February 2007.