Denon DJ has announced that its popular leading DN-X1600 digital mixer has been awarded Native Instruments TRAKTOR SCRATCH PRO certification.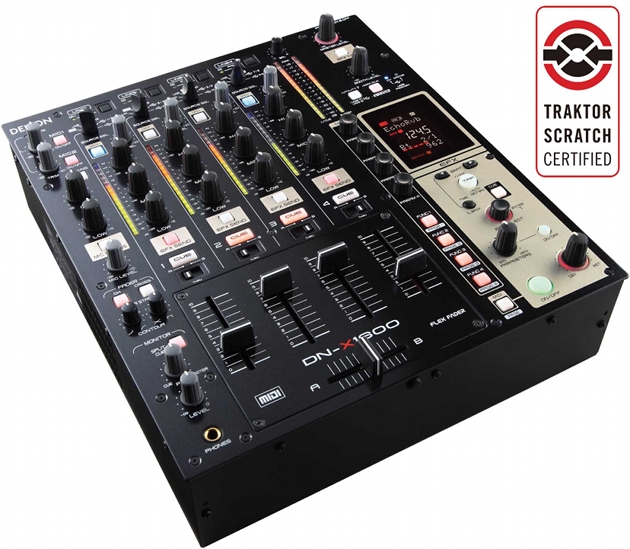 TRAKTOR SCRATCH PRO certification is reserved for premium quality DJ mixers with high performance integrated audio interfaces (soundcards). These have to meet the highest standards of professional sound quality and integrate seamlessly within a TRAKTOR SCRATCH PRO setup; capabilities designed into the DN-X1600 from its inception.
Derived from the same R&D development programme as the flagship DN-X1700, with which it shares many features and components, the DN-X1600 offers leading performance features and capabilities, including Roland V-LINK support, enabling simultaneous VJ performance. The world's first DJ mixer to incorporate V-LINK support, using the DN-X1600 DJs can remotely control functions of Roland's EDIROL V8 and V4 video mixers; with two or more V-Link compatible devices connected via MIDI.
With a circa £/€ 1000 price point, the DN-X1600 has major price / performance advantage in the professional DJ mixer sector. Included in the spec is extensive USB connectivity (both Windows® and MacOS® compatible), matrix input assignment with DVS mode, 32-bit internal digital processing, exclusive MIDI control user interface section, extensive on-board digital effects, and 3-band EQ with full kill on each band. A spacious, ergonomic control surface features 60mm long throw Alps channel faders, large high-quality rubberized knobs, and a 45mm FLEX crossfader (with A/B Cut Position adjustment), large VDF display screen, and 16 dot high resolution level meters. Exceptional sound quality is delivered via 32-bit digital to analogue conversion at the output stage; one of only two DJ mixers (along with the DN-X1700) equipped with such a high performance DAC. A proprietary Denon hi-fi quality phono amplifier, for best possible vinyl reproduction, studio quality low-noise mic amplifier, and high output headphone amp are also spec'd.