The ROCK – Years in the making…… Since 1995 Unity Audio Ltd has been synonymous with distributing professional monitor brands, so they have seen and heard it all over the years. Finally, they have decided to design and manufacturer their own range of professional monitors from scratch to overcome other the shortcomings found in most commercially available monitor systems and will deliver what true professionals expect. A brutally honest tool on which you can base the most critical decisions without a second guess or hesitation.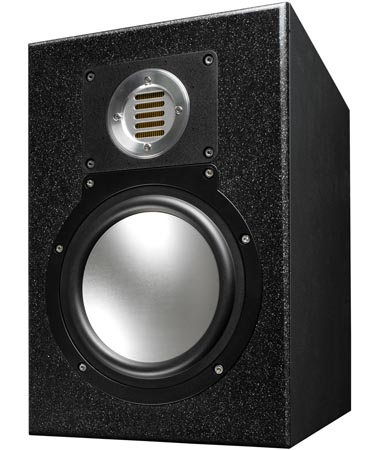 This has been achieved by assembling a team of professionals with impeccable credentials in the areas required to produce a new standard of monitoring.
FRONT BAFFLE & CABINET – BY STUDIO DESIGNER KEVIN VAN GREEN
To add density, mass and rigidity to the design, the front baffle is manufactured from Corian® and then bonded to a plywood baffle.
Closed cabinet design for a more accurate smoother, deeper bass response made from top grade 12mm, 9 ply Baltic Birch rather than cheaper commonly used MDF. An ingenious bracing system has also been designed to stop cabinet flexing.
Superior Folded Ribbon Tweeter
A new folded ribbon tweeter has been designed which features a new neodymium magnet system, giving higher efficiency, superior linear frequency and phase response along with the smoother, less fatiguing results associated with the use of ribbon tweeters. The frequency response of the tweeter can go as high as 50 kHz, which is how our tweeters superior phase response is achieved.
WOOFER
A 180mm woofer with a 0.2mm aluminum foil is chemically bonded to a rigid pulp fiber cone. This reduces composite all but eliminates harmonic anomalies and permits +/- 15mm of woofer travel producing accurate low bass frequencies. The use of Aluminum bound to a pulp fiber cone insures that the woofer cone will remain symmetrical at all frequencies, producing a long life for the woofer element and full accuracy of the driver through it's life. Something few other materials can claim.
CUSTOM DISCRETE ACTIVE AMPLIFICATION BY ESOTERIC AUDIO RESEARCH (EAR)
Rather than pick an off the shelf amplifier Unity Audio has the best amplifier Guru in the business, Esoteric Audio Research designer TIM De Paravicini has created a amp especially for this monitor. A true 100 watt discrete bi-polar low feedback amplifier with custom wound transformers and dedicated LF & HF sections with overload/clip protection, results in very fast and clean, and astoundingly accurate reproduction.