It seems Moog had another new synth up their sleeve, but we all missed it as it was unveiled in august already. Ok, it is maybe not a new synth but still, visually it looks damn sweet (even if I say so myself!). Sadly this special edition Little Phatty (of which only 200 are made) is only available to our friends Down Under.
The Little Phatty Australian Redback Edition is a specially designed for the Australian outback. Inspired by the Redback spider, it boasts a unique Redback colour scheme featuring Redback graphics, black side panels, flashing red pitch and mod wheels (synced to the LFO!) along with a custom red LCD and LEDs.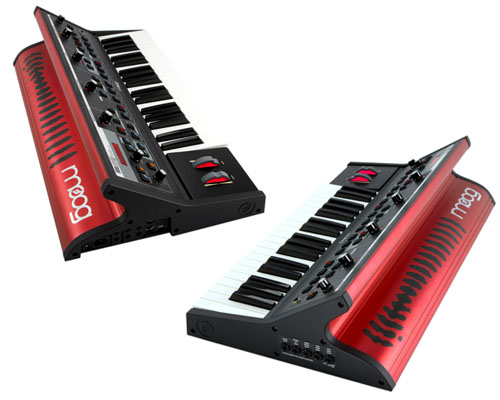 Good looks aren't enough to survive in the Australian Outback. In addition to classic Moog sound and design, this Little Phatty features a powerful CV (Control Voltage) output section that transforms it into the heart of a portable modular synthesis system. Use it to control Moogerfoogers and other analog gear.
The five 1/4″ analog CV outputs include:
– Gate (O to +5V)
– Pitch (1 volt per octave)
– Volume Envelope (0 to 5 Volts)
– Filter Envelope (O to 5 Volts)
– Mod Bus (Variable)
* Sculpt Pitch/Volume envelopes CVs on the front panel by tweaking attack, decay, sustain and release parameters.
* Send the Mod Bus sources (Square, Triangle, Sawtooth, Ramp, sample & hold LFOs and Oscillator 2) to bring new life to other analog gear.
* Use the Pitch CV output of an arpeggiating Little Phatty like an analog step-sequencer.
* Combined with the standard Little Phatty CV inputs (Pitch, Volume, Filter and Gate), MIDI Clock Sync and MIDI-over-USB, the list of possible applications is as endless as your imagination.
* To complete this special edition, each Little Phatty Australian Redback Edition is individually numbered 1- 200 making it an instant collector's item.
"Australian artists and customers are a very passionate group, and have a huge appetite for synthesizers that inspire" said Lewis Chiodo, Company Director of Moog's Australian distributor, Audio Chocolate. "Now, we have our very own special tribute to Australia. Australians, be proud of your part in the wonderful world of Moog."