Look, here is something we CAN show you! Tonelux released a picture of their soon to be released 1628 Mixing Board. The 1628 will have 16 Channels of the famous Tonelux Mic Pres. The EQs and Summing are arranged into a plug and play console format, ready to use, including a professional 192 point patchbay. Tonelux claims that the only option they don't offer is "NO".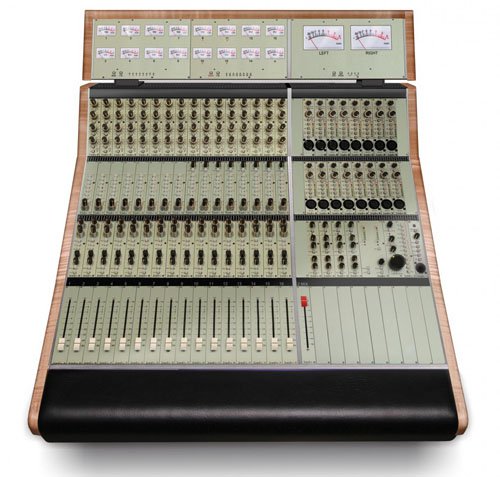 Specifications:
– 16 MX2 Mix Modules
– 16 EQ4P Equalizers
– 16 TR8 Bus Assign Modules
– 16 MP1a Mic Preamps with TILT
– 4 FX2+ Send Master/FX Returns
– 1 SM2 Stereo Master Module
– 1 CR2 Control Room Module
– 1 TB1 TalkBack Module
– 16 P&G Custom Manual Faders, the dB scale matches ShadowMix and ProTools fader scale
– 16 VU Meters in a Removable Bridge, all meters have Peak and VU modes
– 2 Large Stereo VU Meters, with Peak/VU modes
– Custom Designed Wood Sides/Top, made with Bamboo, a sustainable wood
– Leather Bolster
– Complete real TT Patch-bay/Dsub I/O Panel, removable and can swing around the side to mount
– Optional ShadowMix Automation
As shown above: $42,999.99, with ShadowMix Moving Fader Automation, $49,999.99. 8 or 16 channel expanders will be available.