Although specifically designed for live sound, the audio performance, and the addition of a FireWire digital audio interface mean that the VeniceF is equally at home in recording and remixing applications. One look at the VeniceF confirms that this console is continuing the legacy established by the groundbreaking XL3 and XL4 consoles, then consolidated in the industry-leading Heritage series.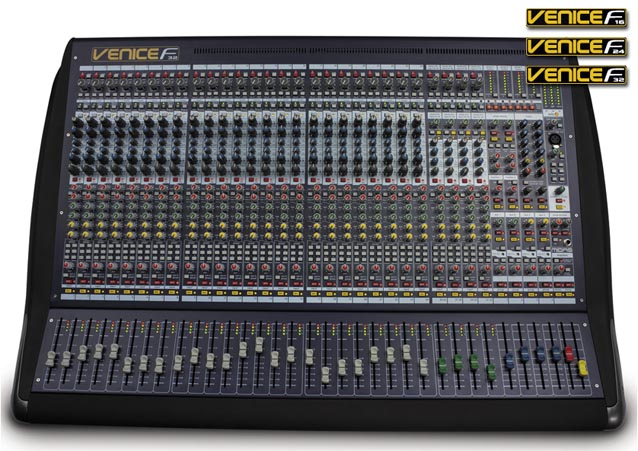 From the VeniceF's horizontal fader panel, through the class-leading parametric EQ filters, to the latest expression of that legendary Midas mic pre, this is a console without compromise. Features are apparent everywhere, some of which are unheard of on consoles of this modest footprint.
The bus structure remains true to the original Venice concept. Six aux sends, four groups and stereo masters. The F model adds an additional mono bus and a 7 x 2 matrix. All bus outputs feature XLR connectors and insert capability. Routing options have been expanded from the outgoing model too. VeniceF has individual routing to groups, all six aux sends are individually switchable pre or post fade, and the two aux buses designated as monitor (foldback) sends are also switchable pre/post EQ on an individual channel basis.
Features overview:
Frames: 16, 24, 32

All-new Alex Cooper mic pre

XL3 EQ – four-band swept eq with two parametric mids

Input polarity switch

Insert in/out switch with LED

Direct out with pre/post EQ switch

Discrete mono bus

Individual routing to stereo, mono and groups with pan-to-groups enable switch

32x32ch. FireWire interface

100mm faders

3 year warranty