For years, the C4 has been a favorite of studio engineers the world over, and in live sound, it's quickly become a must-have for FOH and monitor professionals as well. To create the C6, we took the tried-and-true functions of the C4, and added two additional floating bands plus a sidechain feature, for one-stop vocal and instrument shaping.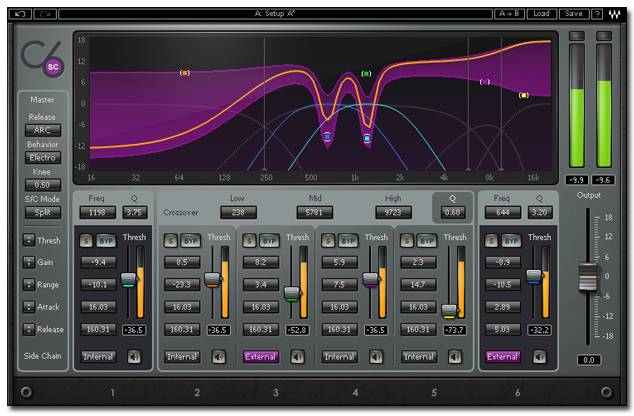 Equally at home in the studio, live, and in post production, the C6 lets you zero in on problem frequencies with surgical precision. Perfect for de-essing and de-popping in the studio or onstage, the C6 gives you all the multiband compression and dynamic equalization you need to control, tame, and shape your sound. Mercury V7 and SoundGrid Pro V7 owners covered by Waves Update Plan receive C6 Multiband Compressor at no additional charge.
Studio
For mixing and mastering, the C6 gives you the power to shape any sound, with creative compression, dynamic EQ, flexible sidechaining, and more.
Live
For FOH and monitor mixers alike, the C6 provides total control over dynamics and EQ, from reducing crowd ambience to in-depth vocal shaping.
Post
For auto-ducking of music and ambience under speech, the C6 sidechain lets you carve out just the vocal frequency range, instead of attenuating the entire signal.