LinPlug MorphoX for Mac and PC is today released! The key feature of MorphoX that distinguishes it from other synths is its Morph Wheel which allows the user to quickly and easily morph between two synth patches. Using the Morph Wheel, it's easy to create highly expressive performances and complex evolving sounds in real-time by using a quality subtractive sound engine.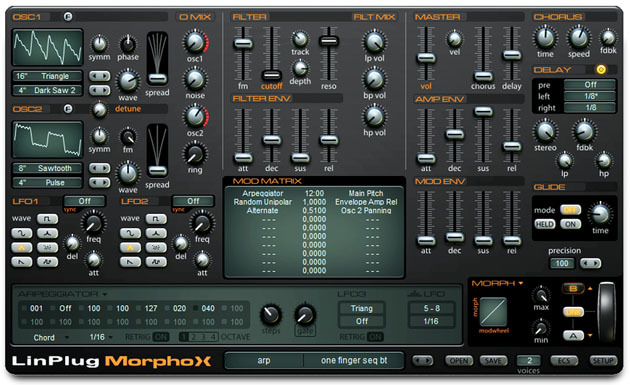 Linplug is very pleased to announce the availability of the MorphoX Synthesizer as AU, RTAS and VST plugin for Mac OS X and VST plugin for Windows PC.
Main Features :
– Continuous morphing between two distinct synth patches (including all effects processing) using the modulation wheel
– Powerful yet easy-to-operate subtractive synthesis engine with a vast range of modulation options (it's a LinPlug!)
– Stereo Filter with simultaneous low pass, band pass and high pass and Filter FM
– Modulation Matrix with 10 routings for more than 20 sources and 40 destinations
– User-programmable 16-step arpeggiator
– Microtonal tuning support (TUN file import)
– 400 factory presets from some of the world's finest sound designers
The LinPlug MorphoX is exclusively available as download from LinPlug. It comes with an English PDF-manual and more than 400 presets from some of the best sound designers on this planet. The license fee is 129 US$ / 99 Euro.