The Moog SlimPhatty is the long awaited follow-up to the hugely successful Little Phatty. All the sound of the Phatty, but in a petite tabletop or rack-mountable form. And with an RRP of £699 (inc VAT), it's the most affordable Moog Synth on the market. The SlimPhatty can sit on a table top or mount in a rack. Rack ears and a handsome wood casing are optionally available. The Slim is built on the architecture of the best-selling Little Phatty synth for great Moog sound and simple intuitive user interface.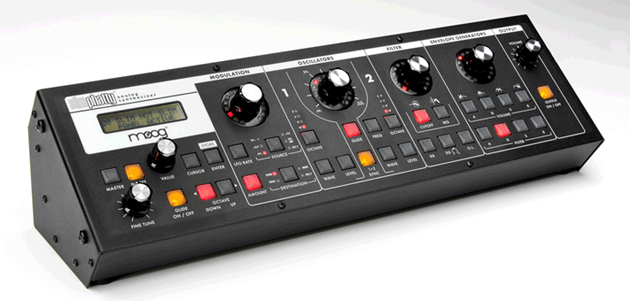 Features:
· Two Rock Solid Oscillators
· Universal Internal Power Supply
· External Audio Input and CV Inputs for Pitch, Filter, Volume and Keyboard Gate.
· MIDI over USB
· Arpeggiator
· New Cutting Edge sound bank
· 24 dB/Oct Moog Ladder filter with filter Overload control and a single Output VCA
· An Envelope Generator section provides two ADSR Envelopes
· The Modulation section contains a 4-waveform LFO, and a 1×2 Mod Bus with 8 possible mod sources and 4 possible destinations
· There is a Master Volume control, Fine Tune, an Output On/Off switch, and a headphone output jack.

Dimensions and Weight – This is the smallest and lightest Moog ever. Designed for the traveling musician. Easily fits in a backpack or your luggage. It's 17 " wide. If rack mounted, the Slim only takes up 3 rack spaces and 4 5/16″ deep. When used as a table top synth, it will be 4 9/16″ high and 5 5/16″ deep. Only 2.6 kg (5.75 lb.).
The Slim can be played from the front panel, played with any MIDI controller, or used as a voice expander with a Little Phatty, Minimoog Voyager, or other synths…
The SlimPhatty is currently expected into the UK around January 2011. Other European release dates have to be announced.