Vestax silently has released a cute little USB audio interface for laptop DJ's with a big name: The Tank! Also known as the VAI-80, this interface makes life easier according to Vestax. Originally introduced at this year's BPM, it is now up on the Vestax corporate website.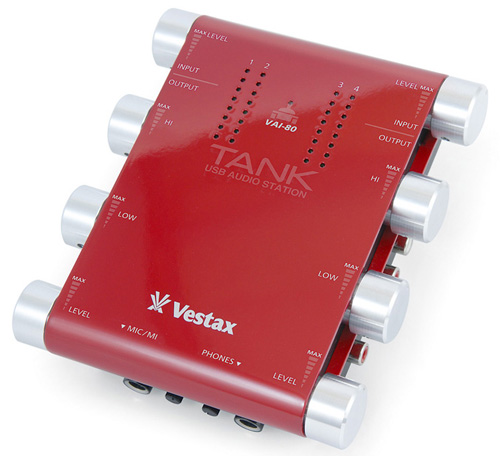 Have you ever experienced starting a mix and having no sound coming out? Restart your laptop, check connections and all and then figure that the audio level of the driver software's control panel was set to 0? With regular audio interfaces, it has been necessary to rely on the driver software to control audio levels.
"THE TANK" has taken away that uneasiness, making it speedier and simpler for the user. "THE TANK" (VAI-80) is a compact and stylish digital audio interface capable of multi channel playback and recording. Each input has GAIN & EQ (hi, low) control to enable flexible adjustments for live recording and can free up the DJ from relying on the software control panel.
Also loaded with XLR output for direct connection with club PA systems, "THE TANK" is an excellent tool with high sound quality for any DJ or DAQ software.
Priced at (around) 290 Euro, the TANK is now available worldwide.