Like every year, this is becoming the time that many manufacturers try to give some back to existing and new customers. This is the season the Holiday Deals are launched. So we collect the deals we come across and share them with you. This way you can get the best deal out of this season for the gear you really want!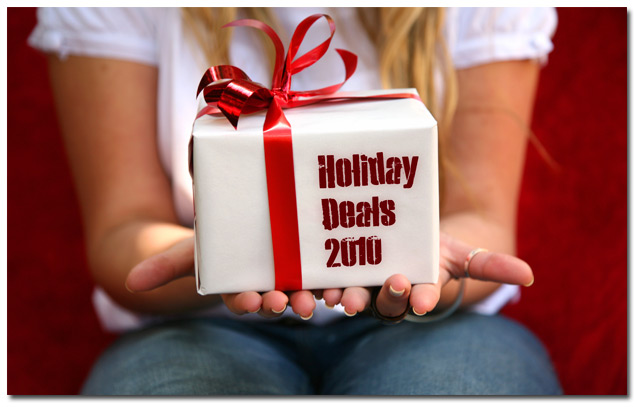 Dont'Crack – Nomad Factory Plug-ins Group Buy (70% off)
Cycling'74 – $100 off Max/MSP/Jitter bundle and all Jitter upgrades
Time+Space – Christmas deals and bundles
DJdownload.com festive hardware software giveaway
Ableton Get in tune with winter – save up to EUR 60 on Live upgrades
Classik IK Multimedia Studio Reverb less than half-price, for 6 days only
Acess Virus – Advent Sunday Offer
Twisted Tools Holiday Sales 33% off
Rayzoon – 2010 Holiday Sale Event
PrecisionSound – Big Winter Deals
Brainworx – 15% on "everything BX" until Jan 3, 2011!
Applied Acoustics Systems – Holiday Specials
Sugar Bytes – Insane Christmas Sellout
SPL Xmas Packs until December 31
Loopmasters & ProducerTech launch Logic-Courses.com – 20% off Intro Offer
Waldorf PPG Wave 3.V Upgrade speciaql offer
Primeloops –50% SUPERPRODUCER SALE!
Puremagnetik Winter Sale! 33% Off Subscriptions and Bundles!
DontCrack – Xils Lab PolyKB II Intro Offer (till 19th Dec.)
GrooveMaker Holiday Special! 50% off ALL Titles until January 3, 2011
H.G. Fortune – ScapesWizard – Special X-Mas Deal 50% off
Linplug – X-mas Synth Bundle sale
YellowTools – Independence Pro Christmas Special
D16 Group – Winter Sale 40% off!
Bax-shop – Christmas deals and presents (Dutch!)
Propellerhead – Buy three, pay for two Record Drum Takes ReFills
Sony Software – Deals of the Day
GuitarCenter – Holiday Savings
Detunized – Christ Mass Rally 555
Image-Line – FL Studio 50% off group-buy
Sonoma Wire Works – HOLIDAY SPECIAL DEALS
East West Samples – "Buy One Get One Free"
SonicProjects – Hot December X-Mas deals
Cubic Carrot – Music Bpm Analyzer app – 50% off (december 20-28!)
Winter Holidays 2010-2011 Discount at Voxengo
IK Multimedia – Groovemaker apps half off
de la Mancha – December Sale 25% Reduction (use coupon code: HOHOHO)
NovaMusik.com – Holiday Deals – Arturia The One – Novation V-Station
Blue Cat Audio – Winter special offers
Synapse Audio – SPECIAL CHRISTMAS OFFER
iZotope – Nectar Intro Pricing
Universal Audio – Holiday Sale
Flux – Winter Holiday Specials
Sidsonic Libraries – x-mas calendar (free packs)
Wave Alchemy – Up to 50% off! Christmas Sale
Lexicon – LXP Native Reverb Plug-In Bundle discount (till 20/12!)
FatLoud – Total Winter Sale 70% off
AudioSpillage – Xmas and New Years Promotions
Beepstreet – iSequence for iPad 30% off
Guitarcenter – Big Clearance Sale
Sony – Buy ACID Pro 7 and pick ten FREE loop libraries
This list with Holiday Deals will grow obviously the coming days and weeks. New deals will be added to his post as they come in. If you don't want to miss out, be sure to add us on Twitter where we will be posting updates to the Holiday Deals.
If you have a Holiday Deal then contact us at press (@) gearjunkies.com.