Haute Couture for DJs: The limited special editions of Reloop's top-of-the-line headphones RHP-10 embody individuality and character. Each pair of headphones is unique – the engraved serial number on the aluminium plate documents this matchlessness.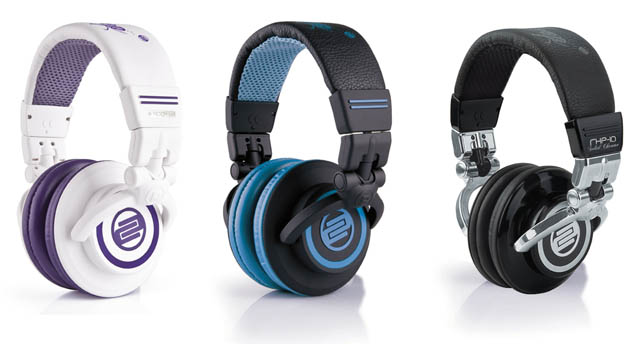 The RHP-10 Cherry Black is blood-red with its radical colour combination. The inside belt and the ear cushions are deep red, the remaining casing is dim black rubber paint. The ear cups' aluminium inlay and the exclusive golden Reloop script nameplate on the bracket are noticeably contrasting.
The model RHP-10 Ceramic White is not less gaudy: The ear cushions, the outer belt and the Reloop branding are kept apple-green, the casing and the inside belt gleam in ceramic white. The trendsetting headphones for DJs with white equipment was inspired by Reloop's Spin! design.
As further alternative Reloop presents the RHP-10 Purple Milk version. The striking purple elements are instantly eye-catching.
The restrained variant for parlour discjockeys is the RHP-10 Chocolate Crown. The rubber paint finish's colour is a strong, noble chocolate brown while the cushions are made of a slightly darker brown composition leather. The silver stresses make this noble edition become truly exclusive.
A further variant, Gold Rush, is impressive due to its golden Reloop branding and the housing elements that were also gold-plated in shining 24 karat.
As complement Reloop puts the Solid Chrome variant on the market. The chrome-coloured elements turn the RHP-10 into a precious piece of DJ equipment.
The Flash Black version comes as strong eye-catcher. Besides the black housing one finds the ear pads and headband in a powerful cyan colour.High-quality materials, a robust light-weight construction and great sound components are proof of the RHP-10's high quality. Of course the extensive accessories with two pairs of ear cushions and a large bag has the same colouring as the headphones themselves. The RHP-10 special editions: Expressive, unmistakable accessories for high fashion DJs.
Features:
– Professional headphones, closed rotary and rectractable construction
– Number plate with engraved serial number
– Noble rubber paint finish
– Aluminum inlays on ear cups
– Flat comfort cinstruction: compact and light ear cup chassis
– High-quality bracket with super robust aluminum bar
– Double bracket casing: water-repellent artificial leather (upper) and sweat-absorbing Climabsorb net nylon (lower side)
– Exchangeable ear cups made of artificial leather: large cut-out for enclosing wear, small cut-out for inumbent wear
– Exchangeable cords: plain cord & spiral cord
– One-sided cord routing
– All connections gold-plated
– Angular output jack for ideal working position
– Excellent, individually adjustablewearing comfort thanks to variable paddings