Pioneer continues to strengthen its lineup in the DJ market with the release of the HDJ-500T with included microphone cord; a new model of the HDJ-500 series designed for home DJing. The HDJ-500 headphones give a clear middle and low range for more accurate drum kick and snare sound monitoring, essential for DJ mixing. The HDJ-500T can now be utilized in even more situations, the standard flexible coil cord is for DJing whilst a new straight cord with a microphone allows for on the go hands-free talking when listening to music on a mobile phone. With the HDJ-500T (available in black only), you can enjoy DJ-quality sound anywhere at anytime.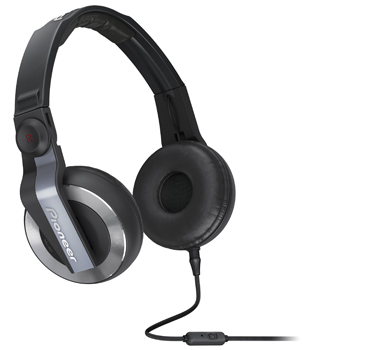 MAIN FEATURES
1. Hands-free talking, even while listening to music on a mobile phone
In addition to the coil cord, a 1.2-m straight cord with microphone and phone button is also included. Push the phone button to quickly answer the phone and start a hands-free call, even when listening to music on your mobile phone. (*The straight cord cannot be connected to the ø6.3 mm 3P plug adapter)
2. Clearly Reproduces Low-Mid Range sounds, such as Kick and Snare Drums
The HDJ-500T reproduces a rich low-range and increases the sound pressure by utilizing a newly developed 40 mm diameter driver unit, and by narrowing the ear pad opening. By adopting the thickest diaphragm ever at 19 ?m (micrometers) and a copper clad aluminum wire (CCAW) voice coil, the headphones reproduce the clear lowmid range sounds necessary for DJ mixing, which allows DJs to readily pick out the tempo of the music.
3. Compatible with various DJ monitoring styles
The HDJ-500s allow for various DJ monitoring styles by employing a rotating arm structure. This gives approx 60 degrees movement on the right headphone combined with a flexible headband maintaining side pressure for single ear monitoring.
4. Interchangeable Side-Mount Cord for full range DJ movement
An interchangeable cord plugs into one side of the headphones so it doesnt hinder movement of the DJ. The headphones come with a 1.2 m coiled cord (extends to about 3m) and a 1m straight cord, which can be used for different purposes and scenes – whether listening to music on the go or while DJing.
5. Emulates the design of Professional DJ Headphones
A simple and stylish design that emulates our flagship HDJ-2000 model. The streamlined hanger makes easy to distinguish the left and right sides of the headphones.
MAIN SPECIFICATIONS
Type: Fully enclosed dynamic headphones
Frequency response: 5 Hz-28,000 Hz
Impedance: 45
Maximum power input: 2000 mW
Sensitivity: 105 dB
Driver Units: 40 mm dia. dome type
Plug: 3.5 mm dia. 3P mini-plug (gold-plated, screw-in) for side mount coil cord
3.5 mm dia. 3P mini-plug (gold-plated) for straight cord
Weight: 195 g (not incl. cord)
Included: 6.3 mm dia. 3P plug adapter (gold-plated, screw-in)
Cord: 1.2 m side mount coil cord (extended 3 m)
1 m straight cord with microphone