There is really no stopping this … dude! Mario Jurisch from Synth-Project has yet another hardware controller finished. It is a Alphatron SP Controller for the H.G.Fortunes VST Instrument. He has specially designed it for his 10″ Touchscreen. The case is a "rack" Version and it´s sitting on his first controller the Pure-MCone.
Mario's own words: "The Alphatron SP Controller is a Rack Version. This Rack Version will be sitting above the Pure-MCone. The advantage is, that I only need one 10" Touchscreen and one 5 Keyboard to control both VST Instruments.
With the HOST Program "Candabile Solo", which is a Multi-Rack Software for VST Instruments and Effects, I can load both VST Intruments into two different Slots and give them a different Midi Chanel.
That means, that I use at the end 4 Doepfer Midi Interfaces with up to 254 Midi CC to control both VST Instruments at the same time. So I have a total of 3 Oscillators, 3 Sample Player, 6 LFO´s, 4 Envelopes, many Modulations and 2 Step Sequencer. That all can run together.
With the Midi Keyboard I can choose the Midi Channel very quickly, so I can play both VST Instruments together or one with the Keyboard and the other with the Step Sequencer or, or, or ….
This case is total 90 cm x 57 cm (about 35 inch x 23 inch)."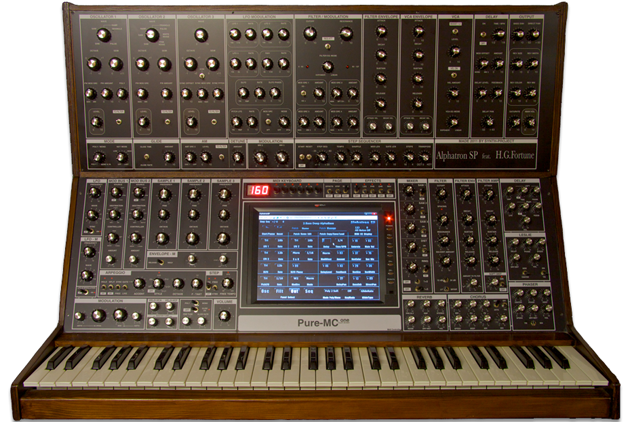 More (detailed) pictures at the Synth-Project website.