Over the years, the Trident Series 80 ® console has heard its praises time and time again for its excellent quality, pristine accuracy, and most of all, its premium vintage equalizer. This powerful combination produced an enormous amount of hit records and is still revered as one of the best analog recording consoles made to date. With so much history behind the Trident name, Toft Audio Designs is proud to announce that the Series 80 boards have been redesigned by the original designer himself, Malcolm Toft. The end result is none other than the new Toft ATB Series Consoles.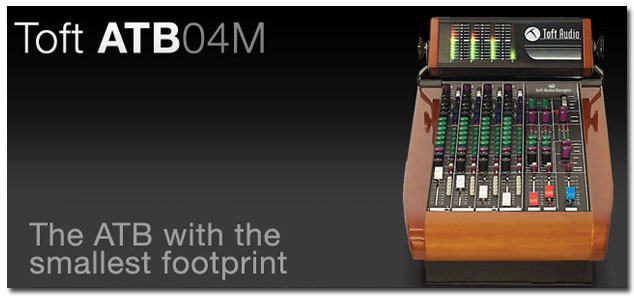 All Pro.
There is no doubt that the Toft ATB Console was designed to be used in professional studios. Designed by Malcom Toft, the ATB console went through countless grueling tests to meet Toft's detailed standards. For this reason, the ATB console is trusted and used by the some of the best engineers and producers around the world. There is nothing stopping you from tracking a platinum album with the ATB Series Consoles. The ATB16 comes nothing short of perfect for a pro in need of a high-end console with limited amounts of space.
The Final Word.
The ATB is the best possible solution for your studio setup. Whether you are in a project studio or a major recording facility, the ATB is sure to impress even the most demanding critics. Make no doubt about it, the Toft ATB console is a dream come to life.
FEATURES
• 4 Premium Channel Strip Module
• 2 Mix Busses with outputs
• Direct Outs on every channel
• Inline Monitoring for every input channel strip
• Additional 2 Monitor Returns in Group Section
• Vintage Series 80 EQ for every input channel
• 2 Aux Sends every input channel strip
• 2 Fully-Dedicated Stero Aux Returns
• Super Accurate 12-Stage LED Meter
• Meter Bridge
• Optional ADAT/SPDIF digtial output
• Fully balanced outputs
Full details at Toft Audio Designs