Black Lions long-awaited Sparrow ADC mk2 is now available for purchase! It is available in three separate models, each with a different color, price and performance quality. There is an obvious need for affordable, yet good-quality converters within the professional and project studio world. Certainly there are great two-channel systems available, but they are prohibitively expensive. Those that are within reach of the project studio's budget usually suffer from the poor sonic qualities that plague mass-produced studio equipment. Black Lion have made it their mission to develop superior-quality, boutique audio equipment but at very "un-boutique," affordable prices.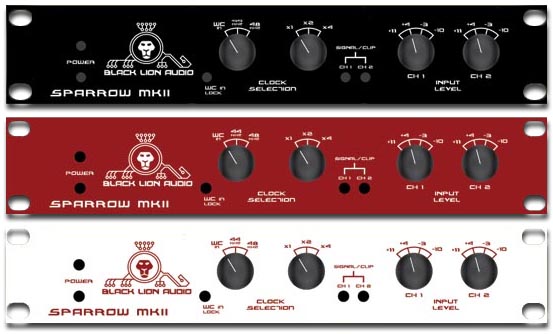 The Sparrow mk2 BLACK
Designed to perform in the range of $2,000+ two-channel A/D converters, the Sparrow mk2 BLACK is much more advanced than its esteemed predecessor, (the original BLA Sparrow ADC, now discontinued). Its conversion circuitry utilizes our proprietary approach to noise reduction; a feature yielding audio that sounds less compressed and processed than traditional methods of converter design. The clocking circuitry features low-jitter, wide Q third harmonic crystal oscillators with advanced PLL recovery. This provides low-jitter master clocking regardless of whether the unit is locked to its internal clock or an external word source. The Sparrow mk2 BLACK (with the black faceplate) is comparable to the conversion quality and sonic characteristics of our Digi 002R/003R Signature Series modification, and is just $895.
The Sparrow mk2 RED
The Sparrow mk2 RED (red faceplate) is also a two-channel ADC but is more comparable to our acclaimed FM192 modification. With a slightly different design and components than the Black Sparrow, it is in a class of its own, yet priced at only $1295. It features a low-noise, low-ripple converter circuit design and the same novel 220/270SP master clock that's found in our FM192. Rich, euphonic frequency response, shimmering top end, and fat low-end extension are all elements of this uniquely musical converter. Once you track with it, you'll find other converters sound hard, processed, or lifeless. Use it for mastering, two-track classical or jazz recordings, final mixes, or whatever application your studio needs ($1295).
The Sparrow mk2 WHITE
Okay, sometimes it's fun to show what your design team is capable of creating. The White version of the Sparrow mk2 (white faceplate) represents a portion of our research into delta sigma conversion and clocking architecture. What sets it apart from the rest of the pack? For one thing, instead of using one converter for stereo conversion, it employs TWO converters in a parallel-balanced circuit to drastically boost converter dynamic range. Add to this our unique approach to converter configuration, our 220/270SP master clock with wide Q third harmonic crystal oscillators, advanced PLL recovery, and a low noise analog path, and all of these elements together will yield the richest, clearest and fattest sounding A/D converter to ever have set foot in your recording studio. The Sparrow mk2 WHITE is $1895 and outperforms the FM192, making it among the best two-channel A/D converters available in the pro audio market today, period ($1895).