Even though their name is … well … very generic, these guys are from, next to PSP who create top notch plug-ins, another Polish company who release quality products. In this case the Limiter/Compressor called Preceptor model-A which is a bit different to the model-T. Made me wonder why you could have any color as long as it was black. The difference between model-A and model-T is that model-T comes with an extra action option which also may suggest that the model-T is the MkII of the model-A.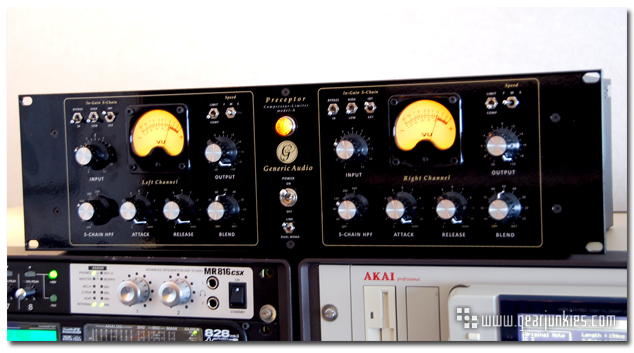 The layout
This compressor/limiter is old type not only in regards of style by being black and having a VU meter but also in regards of controls which has the input and output 21 stepped knobs to control threshold and gain. In addition you can switch between low and high gain for the input. All knobs are stepped and gold plated and feel pretty sturdy. Attack and release knobs have next to 10 stepped levels also an auto option. You can choose the external side-chain input with a switch and use the side-chain HPF filter which also can be used on the internal side-chain. Switching from compressor to limiter give you an extra option for setting the speed from slow, medium to fast. Switching from linked mode to dual mono mode enables the user to use it on two separate mono channels. Bypassing the two channels give the VU meters 'bloodshed eyes' in the sense that a red light behind it is lit. They also added an 21 stepped blend knob which reveals this is a 21st century compressor/limiter.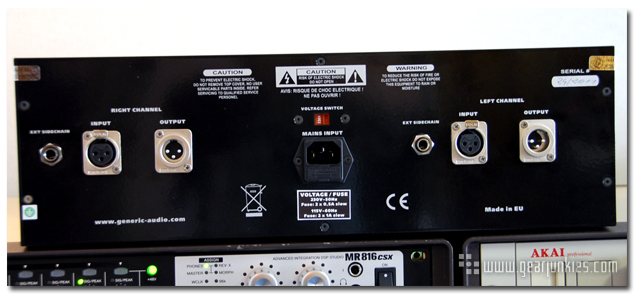 The back has XLR for the inputs and outputs, 1.4″ jack inputs for the side-chains and a standard power cord input. I'm missing 1.4″ balanced inputs and outputs because at this day and age you might want to connect this unit directly on a mix bus or a audio interface directly bit this is only a minor issue. Same is the fact that the manual that comes with it is on a CD and not printed. Not that I ever needed it but still.
The design
The preceptor is a discrete and transistor based compressor with differential amplifier circuit with Zener diodes stabilization to avoid distortion. Transformers are high-end Carnhill and have a filter to filter out the possible noise from the power input. Internally they have isolated the various different circuits to avoid any unwanted interference. So in theory it should be a very linear sounding compressor/limiter. So onwards to do some testing.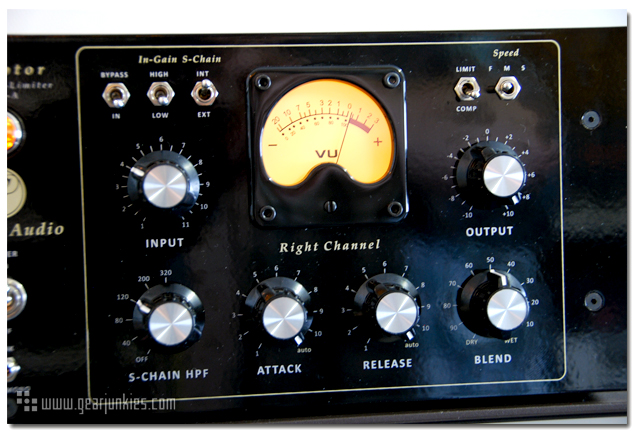 The sound
With these specs you immediately think this is a mix bus compressor/limiter. So I tried on several projects to use this as a mix bus compressor. The results I got were encouraging after having to find the sweet spot this compressor had. In fact I think it has several sweet spots in the sense that you have very much control of getting the input right just how you want to have it. You can crank up the inputs very high before you can hear the sound getting pinched off albeit not distorting at all. That's when the blend option can make a huge difference and retain some of the original character of the sound if needed. Without the blend option this unit would lose a lot of its usefulness. Beefing up drums or bass becomes very easy this way. Vocals get more body and you can get rid of the staleness of some old samples.
As a mixing compressor/limiter the preceptor can be useful by seeming to be invisible. It doesn't color much unless you don't use the blend option. By using the side-chain inputs you can be extra creative. It can handle any hardcore kick you throw at it with ease. You even have to try very hard to get it distorting.
Since it's a very clean compressor/limiter you also can use it for mastering. As a mastering compressor you can use in very different ways. The limiter option is OK but not always brilliant on every type of track because sometimes it seems to be a bit slow and you have to use the blend option to fix it. As a compressor you can push it very hard and together with the blend option you have a powerful tool for fighting the loudness war. E.g. hip-hop/urban and dance music can benefit from this. I got some nice results with fattening up some blues music but there I noticed an apparent low-end boost and I tried various settings and different types of music and overall you can state that there always is this low-end boost going on. I tried some classical music as well but for me it didn't add something but instead made it a tad worse in regards of details and finesse of the sound. To be absolutely sure I tried it again the next day and although with some alterations I got a better result but still not the result I'd hoped to get.
Another example would be this electronic music song I tried and I noticed that the transients of the percussion were much better without the kick than with the kick so you have to be very careful to avoid these kinds of issues. This also made me realize that this in fact is a high-performance compressor/limiter which takes a fair amount of time to find out it's strong points and weaknesses.
The verdict
After having spend several days in my studio with it I must say it took me several days to find out how useful the preceptor can be for me. During mixing it may seem an over expensive compressor/limiter but it's a no-nonsense compressor. As a bus compressor/limiter it's something else. You hardly can get it wrong with this baby on your bus if you use the blend option. Or use it in a more traditional way as a very neutral sounding compressor or slightly aggressive limiter. As a mastering compressor it has its fair share of uses but I wouldn't recommend anyone to have this as their single mastering compressor in case you need a pinch of pepper instead of a pinch of salt.
Even though its price may seem to be a hefty sum but compared to its direct competitors it's reasonable. The units are hand build to last and make a fine addition in any studio.
Pros:
Transparent sound and no coloring
Blend option
Versatility
Cons:
Boosting low end slightly
Missing balanced ins/outs in the back
No printed manual
We would like to thank Generic Audio for their cooperation.