Grammy award-winning drummer Morgan Ågren has been playing alongside some of the biggest stars in music for the best part of 30 years. It doesn't get much better than having Bill Bruford saying you have 'remarkable technical ability and playing skills' and Steve Vai describing you as having 'an extraordinary amount of talent', but these are just a couple of the plaudits heaped upon Ågren.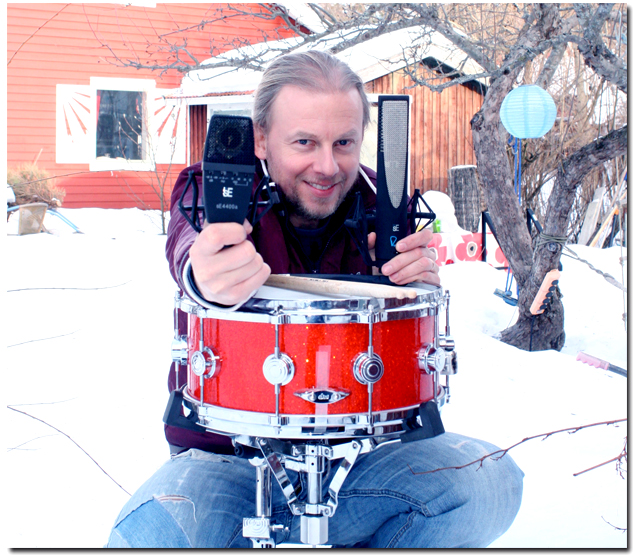 He has played across the globe with everyone from the aforementioned Steve Vai to Frank Zappa and, more recently, he recorded with the legendary musician and producer Bill Laswell as well as starting his own band Batterie Deluxe. Awards include Grammys on both sides of the Atlantic right up to last year's top spot in a Modern Drummer magazine reader poll.
"My drum set is huge," he says of his recording set-up. "There are three bass drums and lots of other stuff. The drum kit always needs to be mic'd and ready for recording…"
Which means Morgan's choice of mics for this kit was always going to be a key decision, but actually it turned out to be an easy one…
"I thought it would be an on-going process," says Morgan, "but after trying the sE microphones I soon stopped looking! When I saw them for the first time I could almost see that they sounded good. But the first thing I did was test the sound in my studio, so I put the sE mics up against my old mics and in many cases they sounded so much better that I could not believe it!"
"For overheads I found that the sE4400 was clear and clean but not too sharp," he continues, "and also never even close to distorting! Cymbals can be hard to record. They tend to eat up a lot, and they can sometimes sound hard, but my cymbals don't sound hard as the 4400 is the best sounding overhead mic I've tried in a long time. I was instantly happy with not only the way the cymbals sound but also the rest of the kit. But it only sounded so good with the 4400s as the overheads – believe me, I compared them with some other mics and they won the game every time!"
Morgan combines his two sE4400 with two Gemini II that he uses as room mics.
"I'd normally go for more mics just to get more flexibility," he explains, "but with just these four mics I've already got a great set-up and I'd recommend this combination to anyone wanting to record a great kit sound."
Morgan is now experimenting with the sE T2 for his kick drums ("I added the T2 in front of my bass drums to get some attack and a closer sound") and also his brand new RNR1 which is offering him a lot of sonic flexibility – "I can really vary the sound I want with that one."
It is this flexibility and the sound of his new mic set up that Morgan concludes has completely won him over…
"They have given me so many more options as well as a better sound," Morgan says. "Every time I go into my studio I only have to look at those Gemini II mics to feel good. I hear a sound in my head and I just know that one of these mics will make it happen when I record. I just can't wait to start my new recording project Batterie Deluxe with them. It will be lots of drums, hypnotic beats, aggressive compression and big sounds. It will make the sE mics sweat but I'm sure they will handle it!"