Inspired by his work in a wide array of genres over the last 12 years, Deadbeat's Sounds from BLKRTZ is a collection of 100 presets for Ultra Analog VA-1 which truly push the instruments to its earth shaking low and shimmering high extremes. It will come as no surprise to those familiar to Deadbeat's unmistakable dubwise style that subs and bass play a central role here, but you'll also find an inspiring array of evolving chords and stabs, ambient clouds, and slowly evolving sequences.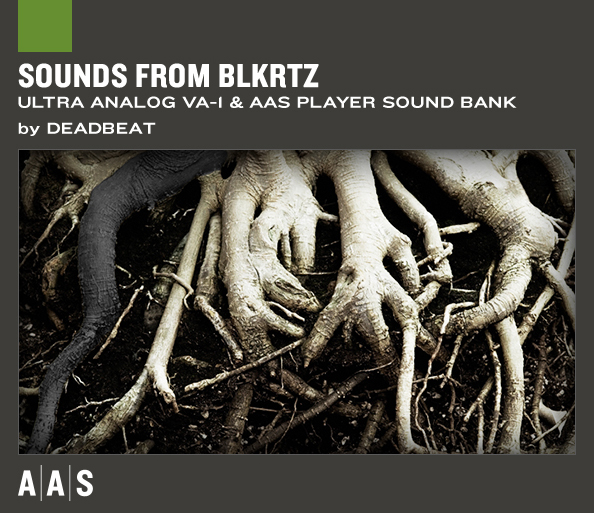 "When I set to work on the bank I really wanted to showcase some of the ways I use the synth on a day to day basis. It's been one of my go-to tools for bass lines for years but it's also a fantastic choice as a vocoder carrier signal, vintage sounding pads, and properly tweaked out acid lines and effects. It's a very deep instrument and I hope that this collection inspires people to explore it further in their own work." —Deadbeat
For those looking for inspiration in the realm of dubstep, ambient, or the deepest and dubbiest of house and techno, Sounds from BLKRTZ is certain provide hours of creative inspiration for your productions.
PRICING AND AVAILABILITY
The Sounds from BLKRTZ bank is available now for $39. The instant download delivery package includes both an Ultra Analog VA-1 preset file as well as the the free AAS Player plug-in. The AAS Player plug-in runs on both Windows and Mac OS X and supports the VST and Audio Unit plug-in formats. For more information please visit the address below.
Sounds from BLKRTZ – Ultra Analog VA-1 & AAS Player sound bank