The Nightingale is the second of Thermionic Culture half rack 4U units, the first being the Freebird 3 channel valve EQ. These are of course all valve. Continuing with the 3 part principle (3 being the most powerful number in the universe) it consists of 3 parts:
– 2 x Mic amps with useful valve eq. Both have their own outputs (XLR unbalanced) which can give 20+dBu. These can be combined or taken individually into
– 1 x vari-mu compressor-based on The Phoenix but with a little more "attitude". The compressor section has its own input ("balanced" XLR) which can be selected instead of a feed from the mic amps, also an XLR "balanced" output capable of +25 dBu.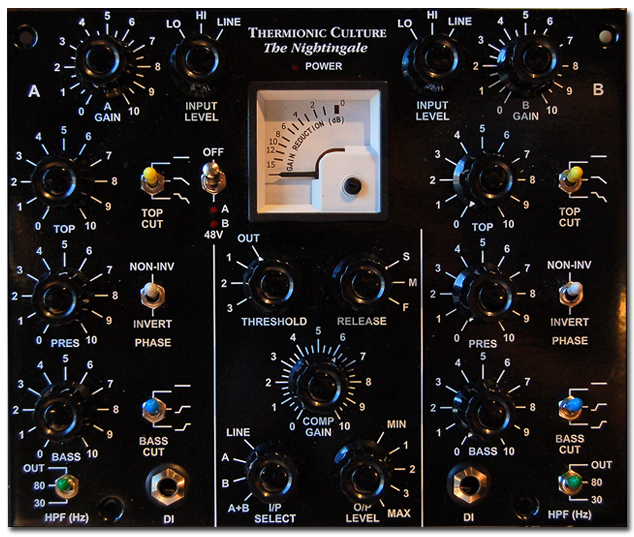 Uses:
– Apart from the obvious 3 separate parts of 2 hi quality mic amps with eq + superb compressor additional uses are.
– As 2 mic inputs into the compressor for live or studio vocals.
– Using the Phase switch on 1 channel, combine 2 snare drum mics thru the compressor for really fat results
As you can take individual outputs, feed a signal thru 1 mic amp straight to mixing desk, also select the same mic amp output to the compressor & drive it, then then feed the compressor output to another channel on the mixing desk & combine them. More variation of compression control.
THE NIGHTINGALE USES 5 VALVES
2 x ECC832 for mic amp/eq, 1 x 6AQ8, 1 x 5965 + 1 x 5726 in the compressor section.
Controls
– Mic Amp/eq
Input select (Mic Lo, Mic Hi, Line), Bass lift, Bass Cut will give 2 positions of increasing bass shelving cut which interact with the bass lift to give a variable mid cut overall. The Hi Pass is purely for cutting very low problem frequencies. Top lift & cut, Presence, Gain, Hi pass filter, Phantom power (+48v). Note: Bass & Top lift controls use our Varislope curves which favour the extremes (40Hz & 10 kHz) when set high, which give heavy bass & glistening tops – unobtainable without valves.
– Compressor
Input select (Mic A, Mic B, A+B, direct Line), Gain, Threshold (4 steps), Release ( 3 way switch ), Output level (5 way switch).
Units will be available end of July for £2125 ex vat.