Formerly of duo, DeepDish, Dubfire's latest solo technical set up comprises the Xone:DB4 at the centre of two X1 controllers running Traktor and an iPad controlling Maschine and Ableton.
"The DB4 has been amazing. It's portable and lighter than other mixers and allows me to travel with my full DJ set up, including portable speakers, so I can even play with different parameters and experiment with my set up and build a good FX library in my hotel room. It's been fantastic," explains Dubfire.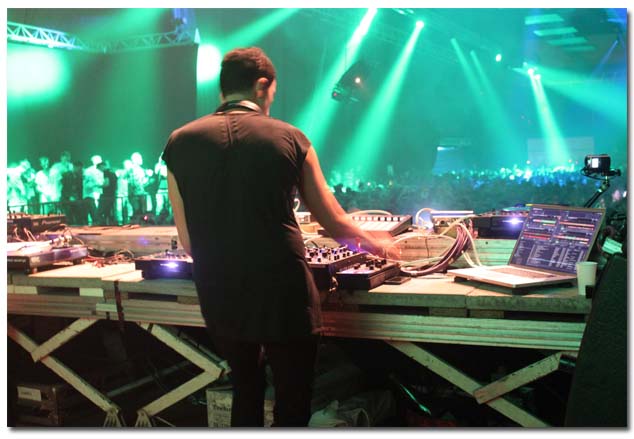 "It's much easier having access to functions like FX and filters on the actual DJ mixer, whilst external devices are inside the software. I'm using the delays a lot because they sound so good, and I'm able to change the delay time so quickly. The A&H filtering, of course, is first rate, and I love having the 3-band EQ," he continues. "The FX have opened up a lot of possibilities and have changed the way I play certain tracks live. I haven't explored all of them yet but they are definitely having an impact on the direction of my performance."
The Xone:DB4 eliminates the need to carry around an external audio interface as all the FX are built in, while the auto-BPM detection system effortlessly keeps the delays sync'd with the track. Dubfire also no longer needs to carry a lot of RCA cables and can use the extra channel for other devices, such as the Maschine. He's also impressed with the sonic quality of the new mixer.
"One thing I've always noticed about A&H products is the sound quality. The Xone:92 especially warmed the digital signal from MP3 and other digital files and the output was high. The DB4 has taken this to the next level."
As well as touring, Dubfire will soon be working on studio remixes with the Xone:DB4.