Hercules, a leader and pioneer in digital DJ controllers and a digital audio specialist, is pleased to debut its first monitoring speaker system for DJs. Relying on 20 years of audio expertise, Hercules has created this active monitoring speaker system, XPS 2.0 80, to be a natural and logical evolution into its DJing product range which was previously comprised of only DJ controllers.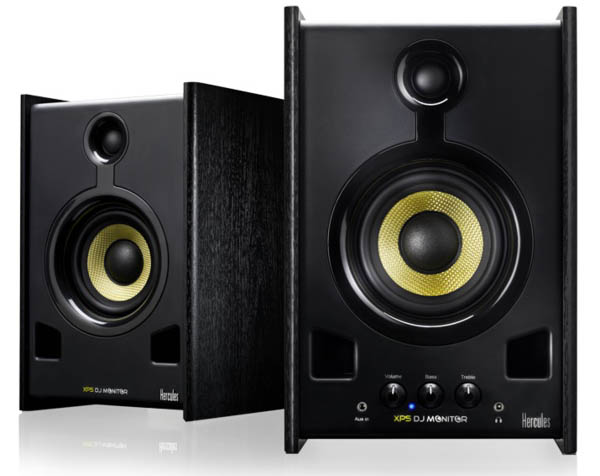 No art without preparation
Because a successful performance depends on a careful mix preparation, monitoring speakers are an essential item in any DJ's personal studio – for beginners, amateurs and expert DJs alike.
To this end, the Hercules XPS 2.0 80 DJ Monitor speaker system offers precise sound restitution, enabling DJs to become aware of every detail in their sound and to hone their mix to perfection.
Precise design
The XPS 2.0 80 DJ Monitor speaker system was developed with the assistance of Hercules' specialized DJing teams, and has been subjected to in-depth testing by Hercules' audio engineers. All have worked with high-end materials and components to deliver the precise, homogenous and quality sound that DJs demand.
The XPS 2.0 80 DJ Monitor speaker system comprises 2 compact wooden satellites, designed to reduce clutter in your home studio. The front face's curvature has been calculated to ensure a clear and balanced sound flow. Each satellite features a silk-dome tweeter, for sharp and pure treble. At the center of each satellite, a 4-inch woofer with a Kevlar diaphragm – a material offering consistent performance, that is less subject to deformation than other materials – delivers ample and homogenous medium and bass sounds.
Finally, the XPS 2.0 80 DJ Monitor satellites' front face features a dual port system, often required by DJs to receive and assess all the bass frequencies in their creations.
Perfected ergonomics
Offering simple control over advanced features, the XPS 2.0 80 DJ Monitor speaker system features user-friendly front-mounted buttons that allow DJs to adjust the general volume, as well as bass and treble levels.
The system offers ample connectivity options, enabling them to connect their computer, DJing equipment, mixing device, MP3 player, game console or any other audio source:
– One RCA input (for the main source)
– One balanced TRS input (6.35 mm)
– One line input
– One headphones output (speakers are automatically deactivated when headphones are connected)
The Hercules XPS 2.0 80 DJ Monitor will be available late October 2011, at the suggested retail price of $169.99.
Find out the complete Hercules XPS product range on www.hercules.com.