MOTU has announced the Audio Express, a 6×6 hybrid FireWire/USB 2.0 audio interface and mixer for personal studio recording and live performance mixing. The Audio Express features studio-grade sound, hands-on mixing, MIDI connectivity, and all the audio I/O needed for a wellequipped personal studio. Advanced features include front-panel control of four stereo mix busses, stand-alone mixing, digitally controlled analog trim, DDS (Direct Digital Synthesis) audio clocking for exceptionally low jitter performance, and an instrument tuner.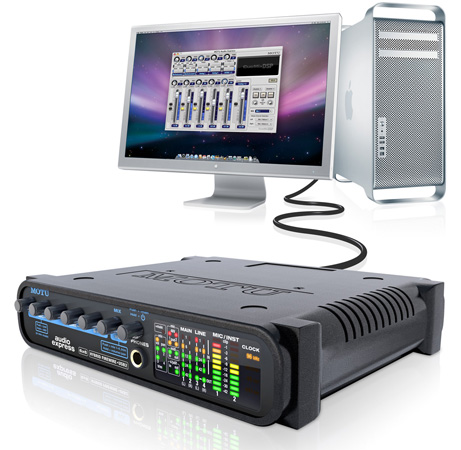 "If you are looking for studio-grade sound quality combined with straightforward operation, the Audio Express is the perfect audio interface and mixer for your personal studio," said Jim Cooper, Director of Marketing at MOTU. "Just connect your mic, guitar, and keyboard, and you are ready to go, either in the studio or live on stage."
All quarter-inch analog connectors are balanced to ensure the best-possible protection against RF interference, AC hum, and other noise-producing environmental factors. The rear panel includes S/PDIF digital I/O, MIDI I/O, and a foot switch input for hands-free punch-in recording (or other computer keyboard function, programmed from the included setup software).
Straightforward hands-on mixing for studio and stage
The Audio Express front panel provides straightforward, hands-on mixing of all six inputs. Users can plug in a mic, guitar, keyboard, and a digital input device, and immediately control the mix going to the main outs via four front-panel knobs labeled MIC 1, MIC 2, LINE 3-4, and S/PDIF, the latter two acting as stereo pairs. Users can also adjust input trim levels directly from the front panel. Since trim level is handled independently from mix volume, users never have to sacrifice audio quality (initial gain levels) when adjusting mix levels to achieve the optimum balanced mix.
In the studio, Audio Express front-panel mixing can be used for monitor-mixing while tracking into host software on a computer (to eliminate software latency during recording), or for playing connected instruments even when the computer is turned off. On stage, the Audio Express can be used for live mixing, either stand-alone or with a computer. Because immediate volume adjustments are always within reach, the Audio Express serves as the perfect compact mixer in either situation.
Equipped with four stereo mix busses, the Audio Express allows users to create a completely separate mix for each output pair (main outs, line outs, S/PDIF out, and phones). For example, a full mix could be sent to a venue's PA system, while a guitar-only mix could be sent to wedge monitors on stage via the line outs. Input trim levels are maintained across all four mix busses. Programming for all four mixes (and input trim) can be done from the front panel by simply pushing the MIX knob to cycle among the four mixes and trim mode.
The Audio Express delivers MOTU's award-winning audio interface technology, pristine audio quality, advanced engineering, and rock-solid performance that all MOTU interfaces are known for worldwide.
The Audio Express ships this month (March, 2011). Price is $449 USD.