Reloop just informed us that their new flagship DJ Headphone RHP-20 is now available at a retailer near you. The futuristic design and excellent sound quality will be yours with a price of 149 Euro.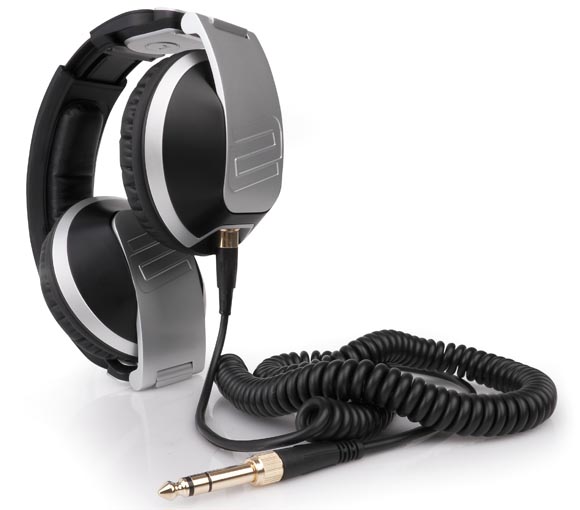 With the RHP-20 Reloop puts a premium headphones model for DJs on the market which attracts attention due to its futuristic design and convinces thanks to its outstanding sound characteristics.
The extremely sturdy rotary/folding mechanism allows monitoring with one ear-cup as preferred by many DJs. The pivoting construction made of high-quality aluminium and the head band made of robust hard rubber turn out to be extremely rugged and are laid-out for continuous operation even under hard circumstances.
The ear-cups' large cut-outs cater for the highest level of wearing comfort for ordinary listening. Not least the comfortable memory foam paddings with protein surface are responsible for feel-good wearing. Thanks to the flat comfort construction the weight remains marginal; this way wearing the headphones over a long period of time does not become a burden.
On the sound side the RHP-20 is also highly convincing. The high output level provides a powerful sound in the club and the clear frequency separation is equally adequate for the DJ as well as the studio sector. The easily exchangeable spiral cord with mini XLR connection is complemented by the plugs' gold-plated contacts.
Robust, future-proof and an absolute trend-setter: The RHP-20.
Features:
Professional DJ headphones, closed rotary and retractable construction
Convenient rotary mechanism for easy monitoring via one ear cup
Powerful sound for clear frequency separation, optimized for DJs
Comfortable Memory-Foam paddings with finest protein-leather surface
Large cavity for comfortable, closed wear
Parts of the elements with rubber-paint finish
High-quality headband made of robust hard rubber
Solid rotatable and foldable mechanism made of aluminium for maximum steadiness
Flat Comfort construction: Compact and light ear cup chassis
One-sided cable duct with removable mini XLR plug for unproblematic changing of cord
Extremely high output rating
Extremely robust construction for DJs' continuous operation
Elaborate and stylish deluxe headphones