Solid State Logic, the world's leading manufacturer of analogue and digital audio consoles, is pleased to announce that Ben Langmaid, one half of electropop duo La Roux, recently installed a Solid State Logic Mynx carrying two E Series EQ modules in his London-based studio. In the five years since joining forces with Elly Jackson, La Roux's striking lead singer, the outfit have risen swiftly through the pop ranks, even scooping a Grammy award earlier this year (2011) for their eponymously titled debut album.
"The common thread with all SSL gear is I know exactly what I'm going to get… and that's really important."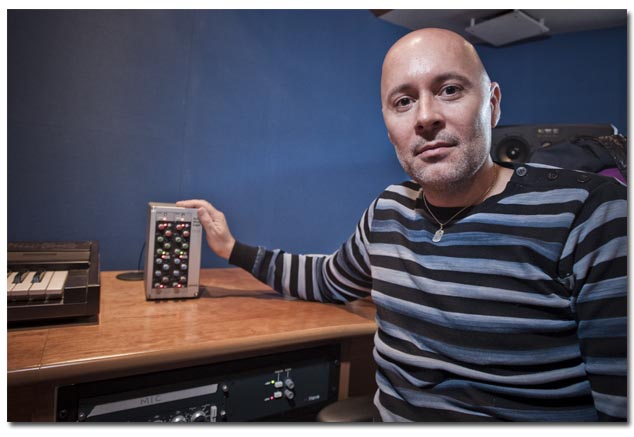 Now busy working on their follow up long player – "it's going great guns, we want to make sure it's a real corker of a record so we're taking our time" – Ben has invested in a new studio for the occasion and added a few choice pieces of outboard to his production set-up, including a Solid State Logic Mynx and two E Series EQ modules.
"I use a lot of synths in the La Roux stuff – hardware synths – and I like to feed them through good EQs so that I can really manipulate the sound," says Ben. "And that's where the E Series modules come in. I've grown up using SSL desks, whether for more acoustic material, dance stuff through the 90s, or the more electropop sound of La Roux. So I guess you could say that the sound of SSL is in my blood. The common thread with all SSL gear is I know what I'm going to get… and that's really important."
"The great thing about the E Series modules is that they can take the sonics to extremes, but they can also give me a really clean sound that I like as well. So no matter what I'm working on in the studio, they offer a nice contrast to whatever else I've got going on."
"They're working out great on the La Roux follow up, which we're hoping to have out early 2012, but I also wanted to use them for guitars as well as the synths. I'm not really into rock guitars, I'm more into Haircut One Hundred kind of bright guitars and they're just great for that as well, so it's good that they give me that level of versatility."
"When it comes to distortion, there's that grungy, moody distortion, and then there's the distortion that's got a brighter sound to it – the kind of distortion that makes a sound poke through in a mix – and I find the E Series modules are really useful for that. But then I can also put a distorted sound through them and they still manipulate the sound in a really nice way. You can take sounds you're working on to extremes, but they still sound very musical."
But no matter how Ben treats a sound, whether he's giving it a smooth, rounded feel or pushing it for a rough, dirty edge, he's always thinking about the bigger picture. "When I hear a sound after treating it, I know exactly where it's going in the mix. I really do think ahead on everything… each part is like a piece of a jigsaw puzzle, and usually I know where everything goes. We like 'spiky' sounds, and those SSL EQs can really give us that, you know?"
"But it's about more than just the sound, though. Of course Mynx and the E Series EQs are very responsive for what you need, when you need it. But the whole set up is also really user-friendly. I hate stuff that's too fiddly and complicated, too technical, and this SSL gear isn't. It's spot on. So I'm very happy with it, to be honest!"