Alesis, the world's leading manufacturer of instruments and tools for today's musician, announces that the Cadenza, an 88-key hammer-action digital piano, is now shipping to musical instrument retailers. The Cadenza electric piano offers the sounds, features and performance feel that musicians need to bring their ideas to life. With 88 hammer-action keys, the Cadenza equips players with a full range of musical expression, enabling them to play any song, from classical to contemporary.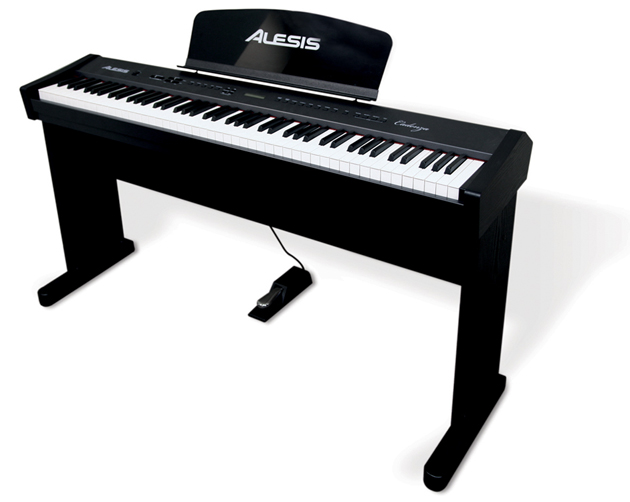 The Cadenza offers a variety of timeless piano tones: Grand, Upright, Electric, Strings, Organ, and more, all available at the push of a button. The Cadenza's split function can be used to divide the keyboard between sounds, and users can even layer different sounds to create stunning combinations. Every aspect of the player's performance was considered in the Cadenza's design. For example, its hammer-action keyboard has a graded feel: the lower keys feel heavier and the higher keys feel lighter, giving players the key response of an acoustic grand piano. The included sustain pedal enables players to unlock all of the Cadenza's musical ability, bringing depth and impact to performances. With push-button chorus and reverb effects, sliding treble and bass controls, and the ability to adjust the keyboard's touch sensitivity, the Cadenza is an electric piano that will adapt to the preferences of any musician.
The Cadenza includes a 1/8-inch stereo auxiliary input, allowing players to connect a CD or MP3 player and play along with their favorite songs. A MIDI input and output are also provided to control the Cadenza's sound via a separate keyboard, or to use the Cadenza to control MIDI-compliant sound modules or instruments.
The Cadenza's USB MIDI jack allows for connection directly to a Mac or PC, so players can work with music software. Using the Apple iPad USB adapter, players can even connect the Cadenza to their iPad, iPad 2 or iPhone 4S and play using any CoreMIDI app.
Built-in stereo speakers and a compact, wood-grain frame make the Cadenza a perfect choice for those who want a digital piano that takes over a room, not with its size, but with its sound. The Cadenza also includes output jacks for connecting to external speakers, plus a headphone output for silent practice at anytime.
"The Cadenza is easy to use and offers the full piano experience," said Dan Radin, Alesis Product Manager. "It's packed with features that will bring out the best in every pianist."
The Cadenza is now available with a MSRP of $699 and an estimated street price of $499.
For more information about the Cadenza, a new digital piano, please visit www.alesis.com/cadenza