After months of preparation VXXY are ready to go live. Switches flipped, soldering irons warmed, many lines of code written. VXXY announce the production of their first electronic musical instrument the DCM8 Digital Chiptune Drum machine, born from a desire to have chip music sounds in an easy to use studio desk sequencer and live performance package after wearing out our Gameboys with manic button bashing, and also wanting a few other sound styles thrown in for good measure.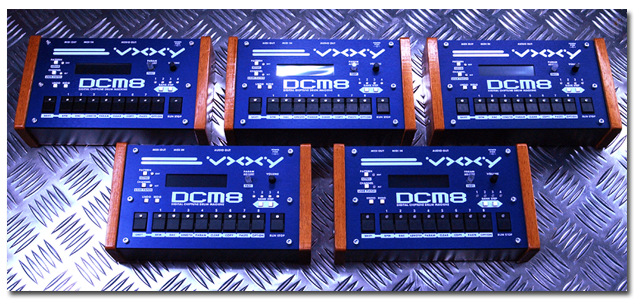 The DCM8 is presented in a powder coated steel case with a CNC punched royal blue anodized aluminium front panel and white silk screen legend. The control layout has been designed to be compact and functional with eight main step editing and selection buttons, mode function buttons, an encoder knob for parameter
adjustment and undo / redo buttons for ease of editing as well as live performance pattern modification. A 16 x 2 black & white negative LCD provides status information and menus for editing sounds and changing options.
A diverse range of chip tune sounds have been recreated by an old school programmer of commercial game sound engines from Gameboy and ZX Spectrum days, mixed with modern FM synthesis, digital filtering and adjustable DAC bit masking for manic distortion effects. Step sequencing also allows for pitch and decay parameters to be edited on a per step basis, and as the sounds are produced by formulas and micro-coded sequences this allows for greater sonic flexibility rather than just tweaking the pitch of a sample. Included is the ability to generate upto 32 custom sounds via a simple yet expressive editor and utilise the sounds within programmed sequences.
Features
64 Patterns in 8 banks of 8.
Selectable 8, 16 or 32 steps per pattern with half, normal and double speed timing scales.
Adjustable instrument volume, decay and pitch on per step basis.
Dual channel architecture with wide range of retro and unique preset sounds generated by a scripted synthesis engine.
255 digitally synthesized chip sounds, consisting of 223 presets and 32 user generated patches.
8 Levels of live undo on each pattern.
8 Songs with 128 pattern selections.
Clear, Copy and Paste 8, 16 or 32 steps between patterns.
EEPROM based storage of all patterns and user data, with SYSEX backup.
Initial batch of units is hardware complete with the firmware now in beta testing, readying for an early November release!