It was a special moment in musical history last week when Stevie Wonder played the prototype of the latest keyboard developed by Australian inventor Peter Vogel. The new instrument from Fairlight Instruments is a limited‐edition homage to the synthesiser which changed the face of music in the eighties – the Fairlight CMI.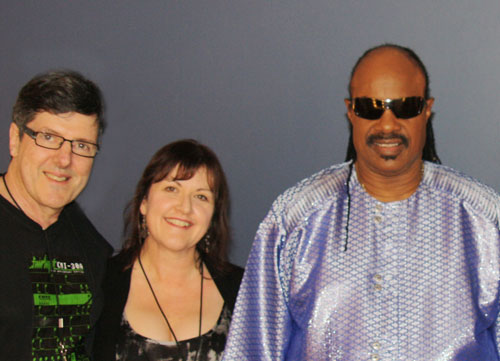 The Fairlight team demonstrated their prototype to Stevie Wonder and discussed future directions. "In 1979, Stevie was one of the first users of the Fairlight. I was thrilled to find he was still as interested as ever in exploring new technology", Vogel said. "Of course, he was particularly keen that music technology be accessible to the blind. The original Fairlight was much more accessible than PC based instruments because it predated things like drop‐down menus which rely on good eyesight. We've kept that original look and feel in the new model".
Fairlight will be working closely with Stevie Wonder's personal engineer LaMar Mitchell to discover ways to make Fairlight's products totally accessible.
The 30th Anniversary Fairlight CMI
When the Fairlight CMI arrived on the scene in the eighties it changed the way we make music, forever. Today every sampler, digital synthesiser, sequencer and audio workstation can trace its lineage back to this legendary machine. Known for its solid, hand‐built quality and iconic sounds, the Fairlight CMI holds a special place in history and in the hearts of musicians everywhere. Now, after thirty years, the Fairlight CMI returns. With all the character of the original, the 30A delivers a major nostalgia hit. Featuring the hallmark look and feel of the original Fairlight, the 30th anniversary CMI harnesses the latest technology to deliver the 'Fairlight sound' no other system has achieved.
As you crank up the 30A's unique 'goodness control', the quality morphs from pristine 36 bit floating point fidelity into the soulful sound that made musical history. Turn it up to 11 and it sounds more Fairlight than Fairlight – chock full of eighties goodness!