Griffin Technology, makers of innovations for everyday life, is excited to announce that GuitarConnect Pro is now available. GuitarConnect Pro adds a standard ¼ inch instrument jack, with a built-in gain control, to iPad or iPhone. Users gain a high-quality, all-digital connection from guitars and other instruments directly into GarageBand and most Core Audio apps.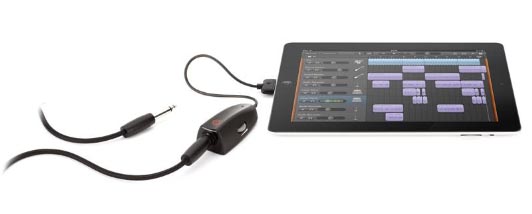 "GuitarConnect Pro is the easiest and most cost-effective digital audio interface for iOS devices," said Mark Rowan, President of Griffin Technology. "We designed it for musicians of all skill levels, to make it easy to record in GarageBand. The result is a mobile music rig unlike any other."
Designed to work with any instrument that has a ¼ inch jack (including guitars, bass guitars, electric violins, keyboards, etc.), GuitarConnect Pro was created to turn iPad or iPhone into a compact performance or practice rig. A built-in gain control wheel allows the user to adjust the strength of the instrument's input signal.
GuitarConnect Pro is intuitive and simple. At one end, it has a ¼ inch mono jack to fit standard instrument cables, and at the other end is a dock connecter for iPad and iPhone. Listen with speakers or headphones from the headphone jack of the iOS device. It's a noise-free, 100% digital connection for performing, composing, or practicing.
Compatible with iPad and iPhone, GuitarConnect Pro is now available for $79.99 from www.griffintechnology.com/music.