Solid State Logic, the world's leading manufacturer of analogue and digital audio consoles and control surfaces, today releases new features for its multi-award winning Nucleus control surface. Nucleus users can now download dedicated DAW control profiles for Ableton Live and Propellerhead Reason (in addition to existing profiles for Pro Tools, Logic and Cubase/Nuendo and any other DAW applications that support MCU or HUI).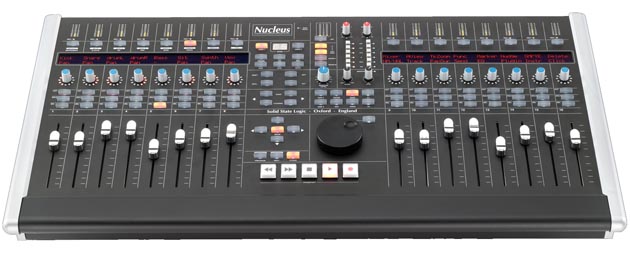 OS X Lion is now fully supported for Nucleus, with a revised Java based Console Browser. The Nucleus soundcard now also supports 64-bit for Mac users.
Sam Counihan, International Sales Manager at Ableton AG says: "We're long time fans of Solid State Logic – a top-of-the-line name for mixing desks, interfaces and other audio hardware. We're therefore pleased to announce a new Ableton Live template from our friends at SSL, for their Nucleus control console. This new template tightly connects the feature sets of both the Nucleus and Ableton Live. Live's unique and dynamic workflow is brought to life through the Nucleus' tactile work surface, and is complimented by the console's high-end audio interface – featuring the same SuperAnalogue technology as found in the company's flagship Duality and AWS consoles. In other words, bring a laptop with Ableton Live to any studio with an SSL rig (you'll find them in the best studios out there), and you're good to go…"
Any registered Nucleus user can download the upgrade bundle by clicking on the Download link on the Downloads tab of the Nucleus product page, www.solidsatelogic.com/music/nucleus. (You will need your serial number to hand.)
This download contains the latest upgrades for the Nucleus console:
– Nucleus console software version 1.5
– Nucleus browser version 1.06
– Mac Soundcard driver 2.00.05
– IpMIDI (latest versions for both Mac and PC)
Additional documentation is available via the Documentation tab on the Nucleus product page.
Nucleus has won two awards in 2011 – Best Desk Controller at the Resolution Awards and Best DAW Controller at the MIPA Awards. It has been nominated for a further two awards – Best Hardware the 2012 Sound On Sound Awards and Best Small Format Console Technology in the 2011 Tec Awards. Winners of both Awards will be announced at the annual NAMM Convention in January 2012 in Los Angeles.
More about Nucleus
Launched in 2010, Nucleus re-defines the professional project studio with a perfect blend of advanced DAW control, transparent SuperAnalogue™ monitoring, high class SuperAnalogue™ mic pres, pro quality USB audio interface and bundled SSL Duende Native plug-ins. Nucleus is a compact desktop unit that creates a comfortable, efficient, hands on operating environment for DAW based Music and Film/TV Post production. It provides everything you need to record and monitor audio and to control your DAW quickly and efficiently without resorting to your mouse. Nucleus streamlines your workflow and helps you focus on your sound, not your screen.
Find out more at www.solidstatelogic.com/nucleus