Music Group announces the release of Behringer's first completely modular system of professional DJ controllers, the Command (CMD) Series. A full-featured set of MIDI controllers, the line includes the CMD MM-1 Mixer Module, CMD DV-1 Digital Vinyl Control Module, LC-1 Live Control Module, CMD PL-1 Platter Control Module and the CMD DC-1 Drum Control Module.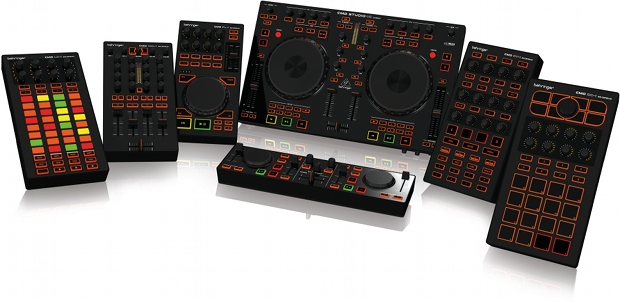 Pro features such as high quality faders, extensive MIDI feedback and rotary encoders with bright LED indicator rings are organized into a logical layout on each unit to ensure a highly ergonomic performance experience. Additionally, all CMD controllers are class compliant so the artist can simply plug and play without the need for additional drivers. While all individual CMD components work well as rugged and portable stand-alone controllers for most popular DJ and production software programs, the series is specially designed to easily connect multiple controller configurations.
The CMD Series' MM-1 Mixer module emulates a 4-channel mixer experience with pro-quality faders, output metering, channel cue selection, 4-band EQs, and master/cue control, but also has an integrated powered 4-port Multi-TT, USB compatible hub to support any desired configuration, including additional control components, hard drives, audio interfaces, or even gooseneck lamps. The MM-1 MIDI controller also allows the user to quickly and easily scroll through music libraries and navigate file systems.
The DV-1 is designed to work alongside modern digital vinyl systems such as Serato ScratchLive and Native Instrument's Traktor Scratch Pro 2, emulating the functionality of traditional gear such as turntables and CD players while unlocking a plethora of advanced software features such as looping, hotcues, effects, samples, and much more. As a single controller, it can be used to access advanced features for up to four software decks. If more discreet controls are preferred, multiple DV-1 modules can be used together.
The LC-1 is essentially a clip-triggering component with a unique ability to maximize the benefits of the Ableton Live software program. The clip section has 32 buttons that are backlit in multiple colors and respond to MIDI feedback. Also increasing accessibility for effects, there's an effects control section above the clip area, with 8 encoders and 8 buttons. Below the clip area there are also buttons for channel mute, solo, and record. When paired with the MM-1 Mixer module, the combined feature set serves as an ideal Ableton Live controller – combining the clip triggering and effect tweaking power of the LC-1 with the mixing and scene navigating capabilities of the MM-1. The LC-1 is also a strong stand-alone controller for clip management, and also complements any Serato ScratchLive user's Bridge-based setup.
The PL-1 is a robust platter-style software controller with an advanced 4" touch-sensitive wheel that offers powerful control. With a simple touch to the top the music stops just as if the user were touching a record. Nudge the side of the platter and it triggers instant changes in playback speed. The PL-1 features a smooth high-resolution fader for precise pitch adjustments, and includes a column of LEDs next to the pitch fader to quickly indicate software sync- induced pitch changes right on the virtual deck, alleviating the need to check the screen.
The PL-1 supports deck switching for controlling up to four decks, so a single module can serve as a backup deck or add-on when using software that allows for more than two virtual decks.
Drawing inspiration from the drum machine, the DC-1 presents 16 backlit trigger pads that allow for two-way communication of data info between the performer and their chosen software. Laid out into a familiar and user-friendly arrangement, the DC-1 has an array of 8 encoders and 8 buttons located directly above the trigger pads for controlling effects or changing application parameters. Located at the top of the unit, there is a complete navigation section with 8 backlit buttons and a fat rotary encoder. Also addressing the importance of a natural performance "feel" on a unit of this type, the DC-1 has tough 1" square buttons with just the right amount of give.
The CMD Series from BEHRINGER is a leap forward in DJ performance technology that offers a versatile suite of control options that allow the DJ to completely customize an ideal configuration for their individual performance style.