Korg announces the new Kaossilator 2 Dynamic Phrase Synthesizer. Introduced in 2007, the original Kaossilator brought fun and easy music-making to musicians and non-musicians alike. It gave rise to the Kaossilator Pro, iKaossilator App for iPhone, and now the Kaossilator 2, which enables anyone to create and save their own music with the touch of a finger.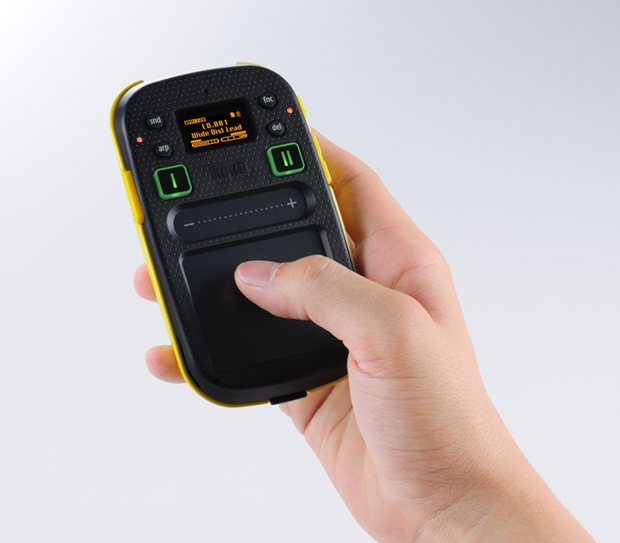 The Kaossilator 2 offers a sleek new design with ergonomic styling, a high-visibility organic electroluminescent (OEL) display, a built-in microphone, an internal speaker, battery power, and a number of advancements over the original Kaossilator. These enhancements include an advanced sound generator, dramatically expanded loop recording, and the ability to save audio creations.
Like all Korg Kaoss products, the Kaossilator 2 is played by sliding or tapping a finger on the X-Y Kaoss touchpad. Moving the finger in one direction controls the pitch and note information; the other direction controls the synthesizer sounds themselves.
The synthesizer section of the Kaossilator 2 offers 150 sound programs, divided into seven categories (Lead, Bass, Chords, etc.) for easy access. Of these sounds, 15 are Drum Kits created using PCM samples, and 25 are Rhythm Loops. Setting a few parameters such as the root note (or "key" of the song); selecting a note range, and choosing one of the 35 scales provides a high degree of musical accuracy when performing, and can eliminate any "wrong" notes. The Gate Arpeggiator provides 50 patterns that can help with pattern and song creation.
In addition to the synthesizer section, the Kaossilator 2 features unlimited loop recording, allowing complex phrases to be built up from simple phrases. There are two loop recording banks. Different sounds and phrases can be recorded onto each of the two loops. These loops can then be cross-faded or muted, or the loop length changed in realtime to create dynamic live performances.
The Kaossilator 2 offers both an internal mic and an auxiliary mic input. This combination allows loop-recording from either the internal synthesizer or from any external audio source. A microSD card can be used to save loop recorder data. In addition, performances played on the Kaossilator 2 can be recorded using the master recorder, and stored on a card for easy sharing. The Kaossilator 2 also acts as an audio player, and can play back performances created using the master recorder.
The audio output (1/8" stereo) can double as a headphone output. The energy-efficient design allows the Kaossilator 2 to operate everywhere on just two AA batteries.
Kaossilator 2 Dynamic Phrase Synthesizer / Loop Recorder costs $220.00 and will be released at May 2012.