Great news from Waldorf! They have a new synthesizer: the Pulse 2.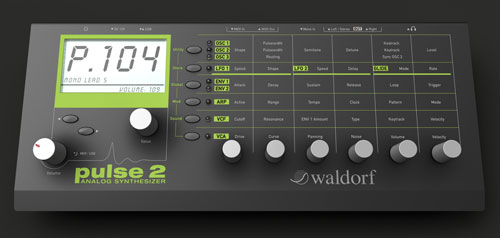 Like its legendary forerunner, the Pulse 2 boasts three analog oscillators and a noise generator. With an 8-slot modulation matrix, hard sync mode and pulse width modulation this synthesizer produces countless familiar and new sounds. A powerful, analog cascade filter can be used for further sound sculpting, which not only features the usual 12db and 24db lowpass types, but also 12db highpass and bandpass filters. Analog frequency modulation and ring modulation allow for spectacular, cool sounds.
In short: The perfect setup for powerful, direct audio output! The 500 sound programs of the Pulse 2 give a first impression of the vast range of possibilities and cover the classic sound spectrum from deep creaking bass, various lead styles, drum & percussion to crisp arpeggio and sequencer lines and FX sounds (or are there better examples?)
The paraphonic mode of the monophone Pulse 2 allows playing even eight-voice chords, while an extensive arpeggiator provides another creative playing field. External audio signals can be added through the analog input.
Like the successful Blofeld synthesizer, the Pulse 2 comes with a solid desktop casing made of powder-coated metal, which not only looks good in a studio environment but also copes with the challenges of touring.
The Pulse has a USB port for computer connection, while MIDI-in and MIDI-out ports can be used for stand-alone operation.
The Pulse 2 has a 128×64 pixel LC display for good readability of all parameters (also in the dark) as well as eight stainless steel regulators for easy use of the clearly arranged parameter matrix and to keep the master volume and display-relevant parameters under control.
Specs:
Analog monophone synthesizer
3 analog oscillators + 1 noise generator
Pulse width modulation
Hard sync
Filter frequency modulation of OSC 3
Ring modulation of OSC 3
XOR mode
8-/4-voice paraphonic modes
Cascade filter
24 dB/12 dB lowpass filters, 12 dB highpass/bandpass filters
Extensive arpeggiator
8-slot modulation matrix
USB
MIDI
External analog signal input
Stereo line output
Headphone connector
Compatible with Pulse Classic
128 x 64 pixel LC display with with background illumination
8 stainless steel regulators
500 sound programs
Electron-absorbing black casing
The Waldorf Pulse 2 will cost 549 euro and will be released this summer.