Dynaudio Professional celebrates it's 20 year anniversary so congratulations for 20 years in excellence of professional monitoring. To make a statement they designed a main monitoring system with cutting edge technology. M3XE is the ultimate main monitoring solution, combining world-class driver and cabinet technology from Dynaudio Professional with cutting-edge signal processing and amplification from Lab.gruppen, Lake and TC Electronic.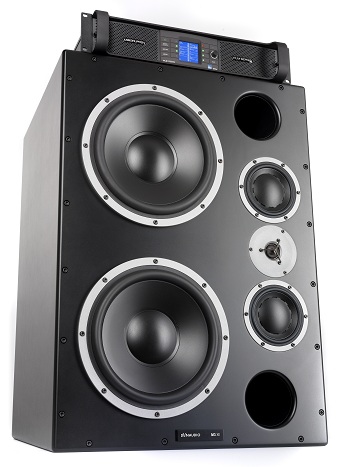 Dynaudio Professional (formerly known as Dynaudio Acoustics) is proud to introduce its 20th Anniversary M3XE monitors that takes monitoring to a whole new level with a significant upgrade from its predecessor – the renowned M3A 3-way monitor. To top it off, the speakers are powered by two of Lab.gruppen's highly esteemed PLM10000Q amplifiers.
Sporting the newest and most pristine Dynaudio driver technology, M3XE takes over where most other monitor systems give up. With unsurpassed attention to detail, underpinned by an impressive 20Hz – 22kHz frequency response and beyond 133dB SPL, M3XE leaves no room for desire in terms of resolution, range or sheer power.
The cutting-edge combination of Lab.gruppen, Lake and TC Electronic processing technology forms the ultimate backing for M3XE and ensures unlimited power and the tools for optimizing any room to become the perfect listening environment.
In short, M3XE surpasses any and all main monitor expectations!
M3XE Main Features
• Unique linear phase frequency response
• Frequency Response: 20Hz – 22kHz
• Dual 12" ESOTAR² Woofers, aluminum voice coil
• Dual 6" Midrange drivers, MSP cone, 75mm aluminum voice coil
• 1.1" (28mm) ESOTAR² Softdome tweeter, aluminum voice coil
• Max. SPL (short term peak @ 1m): 133 SPL
• Heavy internal damping for minimum cabinet resonance
• Dimensions: 555mm (W) x 775mm (H) x 505mm (D)
• Weight: 132 lbs./ 60 kg.
Amplification: Lab.gruppen PLM10000Q
• 4x 2300 watts (2x 2300W woofer, 1x 2300W Mid, 1x 2300W HF)
• Dimensions: 2 unit x 19"
• Input: Analog, AES/EBU
• Class TD output stage
• Zero-overshoot, inter-sample voltage peak limiting (ISVPL™)
• Lake Processing; Raised Cosine Equalization™, Linear phase cross-overs etc.
Available: Summer 2012

Price
USD 34,800 List Price
EUR 26,600 List Price