PreSonus has announced StudioLive Remote 1818VSL software, a free, dedicated wireless-control app for the PreSonus AudioBox™ 1818VSL audio/MIDI interface.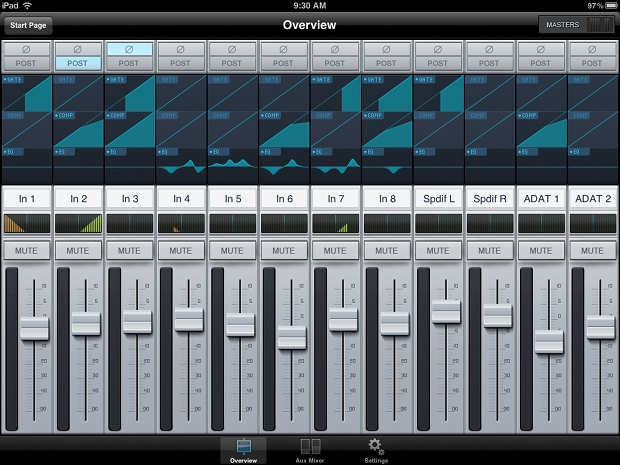 The AudioBox 1818VSL USB 2.0 interface's 26 x 18 mixing and processing features are controlled by AudioBox VSL software for Mac® and Windows®. It provides a computer-based ultra-low-latency mixer with two stereo effects buses for reverb and delay plus theFat Channel processing from the StudioLive 16.0.2. The Fat Channel includes a compressor, limiter, downward expander, high-pass filter, and 3-band semi-parametric EQ that are available on every input, DAW return, and bus.
Now, with StudioLive Remote 1818VSL, you can control all features of AudioBox VSL software (except Solo and Channel Link) wirelessly from an iPad. The new app provides multiple views of the key AudioBox VSL mixer and processing controls. The Overview displays the most-used parameters, such as channel levels, mutes, panning, EQ curves, and more for multiple channels at once. Tap a microview to zoom in on the Fat Channel processing, then navigate between the processors with the flick of a fingertip.
"Because the AudioBox 1818VSL has a built-in 26 x 18 mixer, it can be seriously considered as a live mixer for small groups," notes PreSonus CEO Jim Mack. "StudioLive Remote 1818VSL iPad control makes this even more convenient."
An AudioBox 1818VSL firmware update will be required in order to use StudioLive Remote 1818VSL. Registered owners will be able to download this update at www.presonus.com/technical-support/downloads/drivers-software.
StudioLive Remote 1818VSL is expected to be available in the second quarter of 2012 and will be a free download from the Apple App Store.
For more information, please visit www.presonus.com.